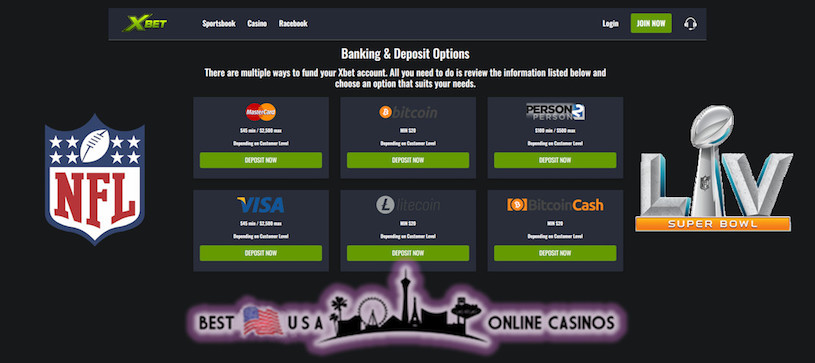 Today The Big Game finally arrives to showcase two elite NFL quarterbacks at opposite ends of their career spectrums and the country is on the edge of their seats in anticipation. Consequently, millions are now wondering how to deposit and gamble on Super Bowl LV at U.S. online sportsbooks to get action down and somehow make the day even more exciting.
The steps to fund accounts is always slightly different depending on destination, although, basics remain constant and this concise tutorial details everything needed to be known beforehand, highlighting major items to look for when transacting. Primarily, banking method chosen dictates the process for topping up balances, as each holds distinct characteristics and techniques will vary.
Two major options are available this year, with cryptocurrency and credit cards again the easiest to use in 2021. Therefore, here's how to use each when attempting to stake action on the Chiefs vs. Buccaneers today.
Gamble on Super Bowl with Cryptocurrency
Many players already know the benefits of Bitcoin football betting as transfers are extremely fast and secure, not to mention totally anonymous and untraceable. Others are now hugely popular with Ethereum, Litecoin and Dogecoin leading the way, every coin requiring identical procedures.
Create and/or login to crypto wallet (Kraken, for example).
Create and/or login to iGaming account.
Navigate to the website's cashier page by tapping Deposit.
Select Cryptocurrency.
Choose crypto type.
If rewards are desired, tap Claim a Bonus.
Copy the unique address displayed (Occasionally, scanning a QR code is possible).
Paste the unique address into crypto wallet.
Select amount to transfer.
Hit "Send" or equivalent.
Return to iGaming site and choose Complete/Finalize
If requiring a video explanation of the above steps, here are three tutorials on how to deposit with cryptocurrency at BetOnline describing each major section of opening virtual wallets, sending funds along, and ultimately completing the undertaking. Those searching for information on playing specifically with BOL should click the link in the preceding sentence to learn all particulars.
STEP #1
STEP #2:
STEP #3
Gamble on Super Bowl with Credit Cards
Anyone seeking to gamble on Super Bowl with credit cards should definitely have a VISA in hand since this is the main company accepting purchases today. Unfortunately, most stopped taking American Express and Discover long ago and MasterCard has been vigilant in blocking customers from doing business at these places.
If failures occur at any point, contact the sportsbook's customer service team by chat or phone as they might be able to help push purchases through, depending on the situation. Once successful, descriptors on statements won't state official names, rather something generic such as Janet's Flower Shop or Jack's Bistro in attempt to protect client privacy.
Open/Login to iGaming account.
Tap user profile icon.
Select Deposit.
Choose Card as method.
Confirm brand (VISA, MasterCard, AmEx).
Enter number, expiration date, CCV code, and Add Card, if necessary.
Enter amount to send.
Select a bonus, if desired.
Confirm by tapping Deposit.
Message will appear indicating success or failure.
Funds will then be in accounts and ready to wager on NFL football or anything else preferred, updated balances clearly displayed in the screen's corner under usernames. Regardless of what's chosen, support is standing by to assist with any part of the task, quickly reachable by calling or initiating live chat.
Those wishing to claim the largest possible sportsbook offer this February should visit highly-recommended partner Xbet for a 100% match on financial transactions, issued to all new registrations. They welcome residents from every jurisdiction including New York, New Jersey, Louisiana, and Washington.