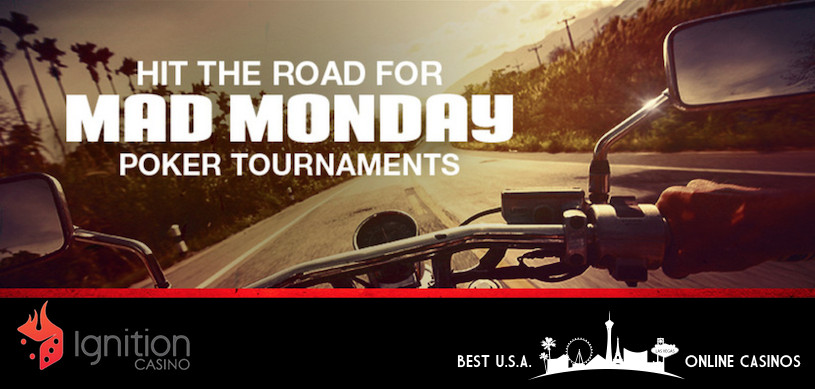 Poker players across the United States received some great news last week with the Ignition Poker Room announcing their new "Mad Monday Tournaments" which are sure to get the chips flying and put a few unlucky people on tilt. There is a long list of events throughout the day with over $400,000 in cash prizes guaranteed, and it all kicks off early in the morning on Monday, January 21st, 2019.
These guys have been winning over the poker community during the last few years but if you're not familiar with them, read our expert review of the Ignition Casino to get all of the details on their products. They're part of the Bodog network of websites so they have a huge pool of players that allow you to find decent action day or night, regardless of your timezone.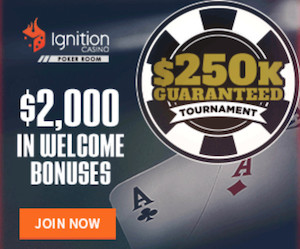 The madness begins calmly enough at 9:19am EST with Event #1, a simple $4,000 Guaranteed Tournament with a reasonable buy-in of $25 + $2.50. Then new tournaments will be starting every hour after that which all have a wide variety of themes and buy-in amounts. Events #2 and #4 are Monster Stacks with $7,500 and $8,000 guaranteed respectively, while Event #5 is a $5 knockout with a minimum pot of $7,000, and then Event #6 is a Short Stack with at least $15,000 at stake.
From there the tournaments only get crazier, like Event #9 at 5:19pm that's a 6 Handed Short Stack ($40+$4) with a guaranteed kitty of $20,000, and then there's the Mad Monday Mini Main Event ($35+$3.50) with a minimum purse of $30,000. These are just appetizers for the main tourney at 7:19pm though, the Mad Monday Main Event, which has a whopping prize pool of $75,000 guaranteed. You can step up to the felt and take a shot at the main event prize for a buy-in of $250+20, a small price to pay if you make it to the final table and get a piece of the pie.
The best thing about this promotion is that it's also running on January 27th, giving you two full Mondays totally stuffed with tournaments. You'd better start thinking of excuses now for when you phone in sick for work.
So if you want to get in on the action of Mad Monday or any of their other great tournaments, sign up for an Ignition Poker account now and see why they're one of the hottest websites going today.