It seems like only yesterday, but highly-respected Intertops Casino is now celebrating their 25th Anniversary, taking their inital wager two and a half decades ago. In fact, they were the first iGaming website ever, launching way back in 1996 during the Summer Olympics in Atlanta.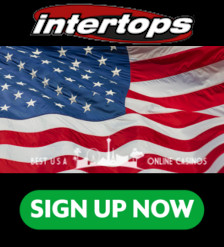 To put their age into perspective, Nintendo 64 and Fox News Channel came out this year, while Bill Clinton defeated Bob Dole to earn a second term. Clearly this Silver Anniversary is a momentous occasion and since they wouldn't have made it this far without their customers, special bonuses for table games and slots are extended to members all weekend long.
The Intertops' 25th Anniversary Celebration follows most other promotions hosted there, with a series of codes triggering extra rewards, claimable in consecutive order and improving each time. Based on genuine betting deposits of $20+, transactions are matched at specific amounts of 100%, 125%, and 150%, funds immediately issued to accounts and available for use upon redemption.
100% to $500: 1SB25TH
125% to $1,000: 2SB25TH
150% to $1,000: 3SB25TH
$50 Free Chip: 4SB25TH
That final code supplies a $50 bonus simply for completing the promo, bringing total value of presents to $2,550. This historical event ends at midnight on January 31st, 2021, so be sure to visit before then to raise a virtual glass of champagne and cheers the entire Intertops organization for an astounding achievement and job well done.