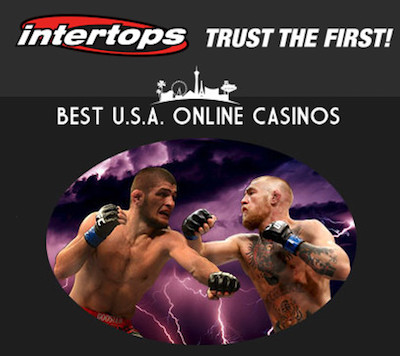 One of the best UFC fights of the year is sure to be Connor McGregor vs. Khabib Nurmagomedov on October 6th, 2018 and now completely-reviewed Intertops Sportsbook is offering members some great promotions to enjoy. First of all, bookmakers have reduced juice for this matchup and guaranteed to list top odds of anyone, with McGregor currently sitting at +140 to win and Nurmagomedov paying -155. It looks like experts are projecting a quick event since total rounds is 2.5, with Overs warding +100 and Unders -130.
Besides reduced juice, free bets are available to those laying $50 or more on the fight. If the person loses, immediate cash back is issued depending on which round it ends in, with amounts increasing the longer it goes on. (Which totally makes sense considering they're predicting it'll be short).
If it ends in Round 1 $10 is given back, sums then going up by $10 at the end of each subsequent round, with $50 being returned if called before Round 5 is finished. However, if it goes the distance, a meaty $100 is refunded, guaranteeing profit either way. Just to add a little spice, Intertops also made offshore gambling news for crazy propositions such as, Will McGregor arrive at the octagon with a dolly? (+25000), or Will Brock Lesnar get into the octagon after the fight and push Dana White? (+3300), as well as Will the referee be knocked out during the fight? (+5000). It's even possible to stake long shots of McGregor retiring while still in the ring, or him showing up to the press conference on time.
In addition to these bizarre possibilities, a full sportsbook awaits with lines for popular American leagues like NFL, MLB, and NBA, as well as every major boxing match around the world. Odds for Mayweather vs. Pacquiao are already posted so get down on that too, if interested.
Finally, $1,000 welcome bonuses are presently extended, so go signup for an account and deposit at Intertops today to feast on the lucrative action.