Gamblers across the nation are now turning attention to college basketball, as the most important sports month of the year is now upon us. Of course we're talking about the 2019 NCAA March Madness tournament, one of the most exciting events in the world, kicking off in a few short days.
The sportsbook promotions are going to be hot and heavy over the next few weeks and Intertops have kicked things off with a nice batch to turn heads. To start with, they're giving players a 50% deposit bonus up to $100 which is nice, but certainly nothing to write home about as this is a fairly standard amount, however, it's the thought that counts.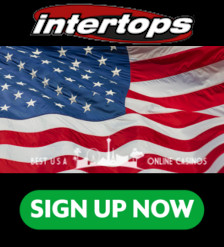 What will really get juices flowing is their Hoops Parlay Boost that will add an extra $50 on top of every winning 4 team parlay that's placed during the tournament. Most professionals refuse to entertain the idea of parlays due to their low return on investment but many people enjoy throwing down a small amount in hopes of winning a lot more. Therefore, this add-on should be quite attractive to many out there who were planning on making parlays regardless.
The icing on the highly-ranked Intertops betting site cake, however, is their $25,000 March Madness Bracket handing over the cash to anyone picking a perfect bracket. If no one manages to ace every selection they'll simply split that prize up among the top 25 individuals who got the most correct. Since the odds of picking a perfect March Madness bracket is 1 in 9,223,372,036,854,775,808 or 1 in 9.2 quintillion, it seems like the prize pool should be slightly higher, but no one will be complaining.
So take a shot at making history this March by heading over and opening a new account at Intertops today to get selections in. You just never know if 2019 will be your year to take it down.