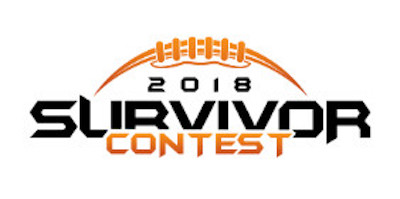 The MyBookie Casino & Sportsbook has announced that they will be offering a very unique contest for the 2018 NFL Season and if you like to gamble on football, you'll want to check this one out. They've taken the traditional "NFL Survivor Pool" that everyone plays with their friends and coworkers and put a little twist on it – you don't play against people, you play against the house. They've put up a $10,000 USD prize pool but you're going to have to be very lucky if you want to get your hands on that pile of cash.
Unlike normal survivor pools, you don't just have to last longer than everyone else in the pool – you have to last the entire 17 weeks, which means that you'll have to be perfect and pick a winning team 17 times in a row. Of course you can only pick each team once so you'll have to plan ahead and develop a winning strategy if you want to make it deep into the season. One strategy is to purchase multiple entries which will safeguard you against upsets like the Browns over the Patriots, giving you many different chances to win. Each entry for the contest is $10 each but you can only buy a maximum of 30 in total.
The MyBookie Casino is actually one of our top sportsbooks for 2018 due to the fact that they accept every American from sea to shining sea without restrictions. Many places these days refuse to take players from states like New York, New Jersey, and Washington, but MB welcomes everyone with open arms. MyBookie is 100% legal and totally safe to play at so you can deposit with them in confidence.
The contest starts Week 1 and if you miss the NFL kickoff you can't join late, so go visit the MyBookie Sportsbook today and sign up for a free account – they're one of the best in the United States today.