Someone somewhere once said everything old is new again and now a latest U.S. online sportsbook promotion is taking us right back to college days, even if still there trying to finish up that damn Arts degree. Obviously, people of all ages love buying squares predicting final scores for Super Bowl matchups at parties, but now they're available for any game, right from the comfort of home.
It's no surprise that such a high-energy promo comes from always unpredictable MyBookie gambling website since they employ one of the best marketing teams, never seeming to run out of fantastic ideas. They work nonstop to bring members tons of fun contests, ponying up hundreds of thousands of dollars in prizes in the process.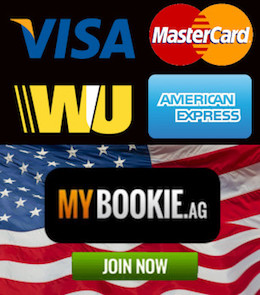 However, this time it's on players to put in cash because this is a straight up, old school squares board offering limitless entries in hopes the numbers revealed match final scores after the 1st, 2nd, 3rd, and 4th quarters. Once purchased, names go on specific squares and then all numbers are unveiled upon kickoff, participants hoping to see 4s and 1s since those scores happen regularly. To clarify, if the score at the end of the 1st quarter is Seahawks 13 Packers 9, whoever has the square with "Seattle 3 / Green Bay 9" wins the predetermined cash amount for that quarter (and the rest of the prizes too if the score were to stay the same).
They've actually decided to offer squares boards for most major sporting events including NFL, NBA, and NCAA football and basketball because interest is constant. The fact it all takes place online ensures contests are constantly filled regardless of event, as casual bettors like to occasionally inject randomness into their pastime. Tons of different buy-in amounts give everyone an opportunity to get in on the action, with prices ranging from $0.75 up to $60 for those throwing caution to the wind.
Currently, they've posted almost 100 different squares boards for NFL Divisional tilts as well as the CFB National Championship on Monday between Clemson and LSU, with a $10,000 guaranteed prize pool for the college football finale. So if thirsting to throw a couple of bucks down on a square to test the waters, go join MyBookie now and check out their never-ending grids.