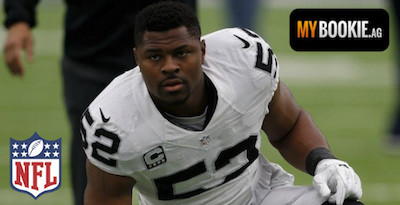 Oddsmakers over at MyBookie Casino might be scared to leave MLB futures up while games are transpiring throughout the day, but they certainly can predict player movements sometimes. Well, three times in three weeks to be exact, but who's counting?
They finished off the trifecta today when it was announced the Chicago Bears had successfully traded for Khalil Mack, who was their favorite to land him at +300 on August 17th, two weeks before it actually happened. That same day a general prop of Will the Raiders trade Mack by November 1st? was put up with "Yes" -500 and "No" +350, so clearly these guys know what they're talking about.
After the news broke, MyBookie Head Oddsmaker, David Strauss, went on a Twitter rampage of re-tweets and I-told-ya-so's for hours, rubbing his insider knowledge into the faces of all who had doubted him. The cherry on top was the fact an Over/Under on Mack's new contract was also posted, the number turning out to be exact at $90,000,000, a new NFL record. Unbelievable.
This follows two other predictions about professional signings "MB" made this summer which also came true. First the Toronto Raptors were made solid favorites to acquire Kawhi Leonard when it was obvious the Spurs were going to move him. Numerous accounts on social media chastised Strauss at the time, but he got the last laugh as Leonard was shipped north of the border shortly after.
Prior to this, he put the Los Angeles Lakers at -5000 to get Lebron James in the offseason, again receiving jeers from Twitterverse, most thinking the line was way off. It was assumed Lebron would stay in the Eastern Conference via Boston or Philadelphia, or perhaps even remain with Cleveland. Well, we all saw how it ended up, giving Strauss' another check in his already-bloated win column. Although, how long can this "Nostradamus-esque" streak of prognostication possibly continue?
So anyone looking to enjoy what's sure to be a season full of ridiculous NFL prop wagers at MyBookie.ag should visit now to signup. The good news is that even if never laying down a dime, you're still guaranteed to be entertained by their bookmakers' silliness when checking out the action.