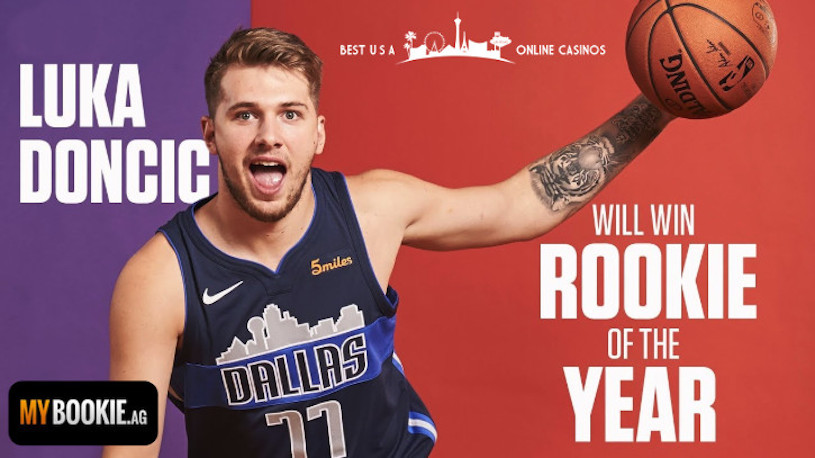 Almost everyone following professional basketball agrees that Dallas Mavericks' point guard Luka Doncic is going to win the 2019/2020 NBA Rookie of the Year Award and final voting is simply a formality. Well, it appears David Strauss at the completely-scrutinized MyBookie betting site concurs because today they announced they're paying out early on all Doncic wagers, so anyone who locked in there has bigger balances waiting.
This type of early settling is not new of course, with many high-profile European books often doing it in hopes of getting some extra media coverage. And if there's one thing deduced from Strauss' MB Twitter account it's that he loves to say anything that will get him more mentions on industry websites, like the one this ePublication just gave him.
The MyBookie payouts team is going to be busy since there are now over $150,000 in winning tickets being cashed by lucky members. They're even extending an olive branch to those who didn't get in on the windfall and if Luka doesn't end up receiving the award for some crazy reason, they'll pay double on whoever does. Simply place action before Monday, February 18th, 2019 to be eligible for this lucrative online sportsbook promotion giving free money to anyone intelligent enough to take it.
In addition, MB is even offering a complimentary bet on Zion Williamson to take next year's NBA Rookie of the Year Award at 3/1 odds and if it doesn't happen, all stakes will be refunded. Now that's a fantastic way to triple a bankroll risk-free, although waiting a full year to get paid might be frustrating for some.
That said, this opportunity is too good to ignore so head over and open up a new account at MyBookie today to get in on this great promo.