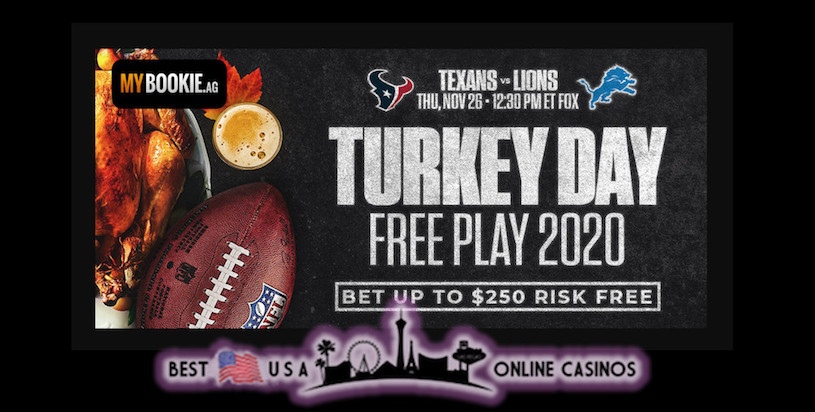 Back by popular demand is the MyBookie Turkey Day Free Play 2020, giving players a nice budget boost for the holidays with absolutely no strings attached. This NFL promotion is now running for a third year in a row, hatched directly from the demented brain of Head Oddsmaker David Strauss, known for extending absurdly lucrative offers to members.
It's a risk free bet meaning winners receive profits as normal, while losers are refunded full amounts, thus guaranteeing any action is victorious. Thankfully, it's for the first game on Thursday at 12:30pm ET on FOX between the Houston Texans and Detroit Lions because both teams are terrible this year and don't have a chance of making the playoffs, so getting paid to watch this "slop fest" is "all gravy".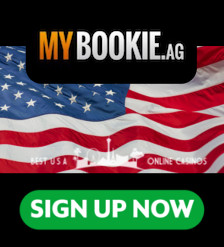 Only a few terms should be noted beforehand, specifically, a maximum on returns of $250 dictates larger amounts don't qualify for rebates. Although, those staking more still pocket up to $250, with supplementary sums at risk as per usual. Also, stakes must be made with actual funds, not bonus balances, so completing a real money sportsbook deposit might be necessary first. Finally, parlays, teasers, and propositions aren't included, exclusively action against the spread (ATS) relating to final score.
To summarize, official rules haven't changed for 2020:
Only the first wager on Texans@Lions on November 26th is refunded if it loses.
Only straight wagers on spread qualify.
A maximum of $250 will be returned on losses.
A 1x rollover is placed on refunds.
For those unsure, rollover is simply a term requiring funds be risked before they're "cleared" and eligible to be sent via payout. This is industry standard fraud protection and 1x is obviously the lowest obligation ever found.
In business for over a decade, MyBookie consistently ranks as best U.S. gambling site or runner-up in all major categories, primarily due to excellent rewards and hosting fun events such as this. If interested in joining the Turkey Day Free Play, do it soon because Strauss is planning on releasing the spread on November 24th at 11pm ET then immediately opening registration afterwards.
To get warmed up for Thursday, check out this quick historical video by ESPN explaining why the NFL has games on Thanksgiving, detailing the key individuals who made it happen.