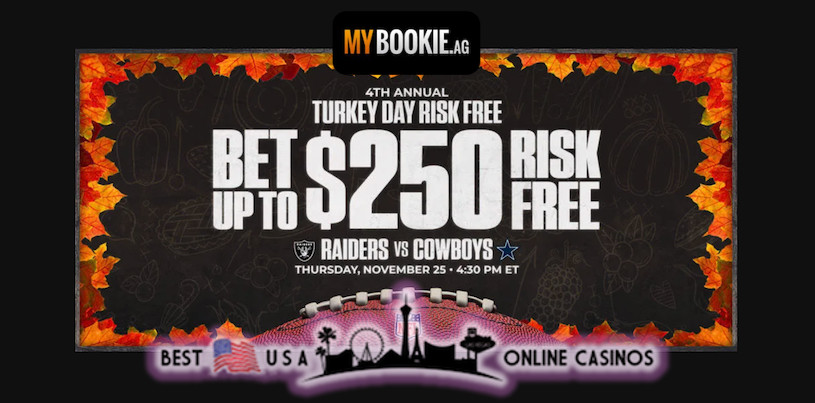 For the 4th year in a row, universally-acclaimed MyBookie Sportsbook is bringing back their Turkey Day Free Play to reward members with extra loot to celebrate Thanksgiving. This fantastic annual special guarantees a winning bet regardless of which side is chosen, with losers reimbursed and victorious prognostications paid out as normal.
As is tradition, terms of this lucrative NFL gambling promotion are simple, merely requiring staking this year's featured event, Raiders at Cowboys kicking off at 4:30pm on CBS. The only two rules to remember are refunds strictly apply to first wagers up to $250 and must be on the full game spread, currently listed as Dallas -7, with parlays, first and second half, and propositions ineligible.

All clients may partake in the festivities, even new registrations playing there for the first time, so it's a great way to inflate budgets for the remainder of the 2021 season heading into the holidays. Most people choose MyBookie.ag for their vast product offering, outrageous political and entertainment props, and consistently prompt payouts, regularly voted #1 offshore website for Americans by industry forums.
Gratis funds will be issued before Buffalo takes on New Orleans in the following matchup at 8:20pm, allowing those partaking to easily get down on that too since returns are deemed cash and not bonus, holding a tiny 1x rollover before cleared for withdrawal. This is just one of many promos presently running so visit soon to take advantage of their seasonal generosity.