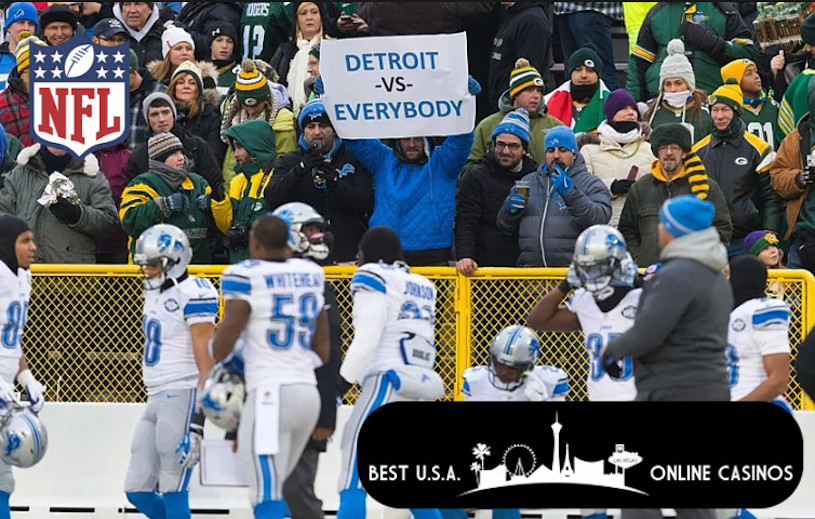 Another NFL regular season has finally come to an end and as per usual, gamblers across America shed a silent tear as they can no longer throw a Bills cover into a 4 team parlay. There wasn't a lot of outright dog victories in Week 17, but tons of covers surprised "professional" linemakers at U.S. online sportsbooks, getting adventurous bettors a few extra bottles of champagne for New Year's Eve parties in the process.
Detroit were 7½ point underdogs rolling into Green Bay but they slapped the Packers down by a final score of 31 to 0, putting a punctuation mark on a terrible season for the "Cheeseheads". Lions moneylines paid out an average of +280, a better result of the day.
Carolina were also given 7 going into New Orleans SuperDome but they easily handled the Saints 33-14, taking advantage of a quarterback not named Drew Brees. This was another great payout for anyone moneyline action.
There were two dogs going into Sunday looking prime for an "upset" and both came through with the win. However, both were playoff teams, causing punters to scratch their heads at lines which seemed to have numbers reversed. First Dallas "surprised" the Giants in New York 36-35, not needing the 5½ most places were giving. Eli Manning was himself while a backup Cowboys team was competent enough to play 60 minutes, notching a "W".
Then afterwards Chicago marched into Minnesota and shrugged off the 5½ bestowed and easily beat the Vikings 24-10. Kirk Cousins again proved he can't win when it counts and led his team straight onto the golf course with an embarrassing home loss. As a result, Philadelphia snuck back into the playoffs to defend their Super Bowl title and fans now get to see if Nick Foles can take his team to the "Promised Land" once again.
All other heavy favorites easily rolled over opponents, robbing fans of excitement and others from fat parlay winnings. That's why it's a good thing to always pad balances with the latest sportsbook promotions and bonuses to ensure big enough bankrolls to keep firing.
Actually, before signing off, let's give Cleveland a slight tip of the hat for covering this week against a very good Ravens team. Baltimore was favored by 5½ but only won by 3 and Cleveland played hard all game. It looks like the Browns are clawing their way back to respectability and it will be interesting to see what Baker Mayfield has in store for 2019. Sure Cincy almost beat Pittsburgh outright holding a 14½ point spread, but lets save praise for victorious underdogs.
It was a great regular season full of ups and downs but now it's time to feast on high-quality matchups and enjoy the hard-hitting thrills…while placing a few more crazy bets, of course.
On to Wildcard Weekend…