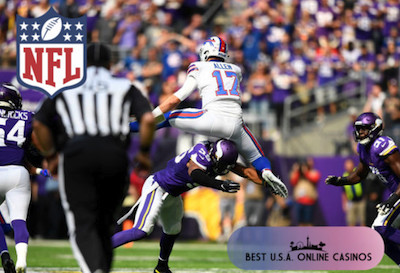 Another week of professional football action is complete and there were some big surprises for Week 3, ensuring all the best NFL sportsbooks took a beating. The biggest shocker of all has to be the Buffalo Bills rolling into Minnesota and winning by three touchdowns after being a 17-point Underdog before kickoff. Rookie quarterback Josh Allen looked fantastic as he jumped over Minnesota's defensive linemen like they were children. Obviously, anyone who helped themselves to the generous Bills moneyline beforehand finished the afternoon very happy indeed.
There were even a few smaller upsets insuring daring gamblers were rewarded with a little money for their bravery. For example, not many people predicted  the New York Giants could go into Houston as 6 point Underdogs and leave with a victory but that's exactly what they did with Eli Manning throwing 297 yards and two touchdowns. This leaves the Texans winless after many experts had predicted them to win the division before the start of the year.
Sunday Night Football capped things off with the second biggest upset, with the Detroit Lions slapping the New England Patriots 26 to 10, putting both teams at 1-2. This was rookie head coach Matt Patricia's signature game of the season as he was facing his old team and mentor Bill Belichick. Even if the Lions only win a few games this season they'll be able to hold onto this memory as this was one they really wanted. The lesson here as always is to never bet against a 7-point Home Dog (usually).
All of this action was of course started by the Cleveland Browns winning their first game in over 600 days on Thursday Night Football against the Jets, setting the stage for a tumultuous Week 3 of the 2018 NFL Season, filled with crazy results.