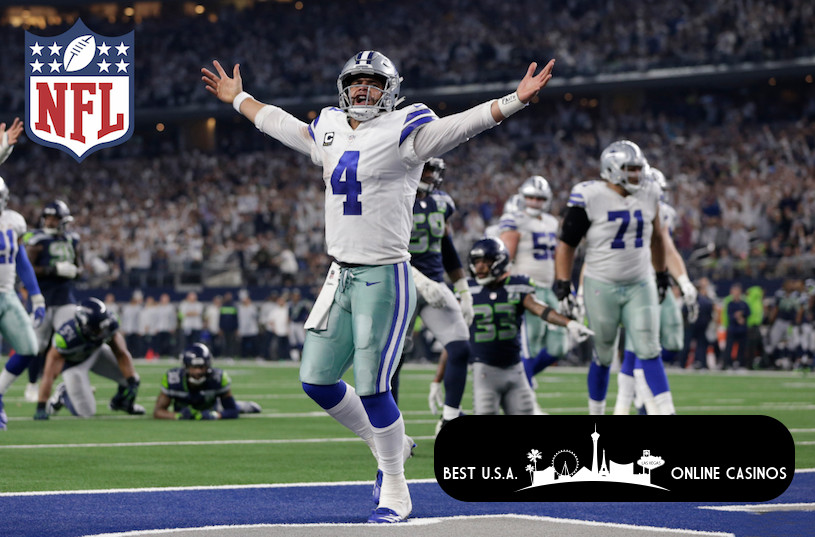 Every year Wild-Card Weekend dishes out amazing action and surprises and thankfully 2019 was no different. The 2018 NFL Season gave gamblers tons of upsets, controversies, drama, and a play so strange it had actually never been seen before. Why any professional player would willingly walk away from a football they had just ripped out of an opponent's hand is impossible to say, but it's safe to assume we'll never see it again. Boneheaded plays aside, the eight teams participating certainly put the "wild" into "wild-card" and fans were both dazed and satisfied on Sunday night.
The weekend started with resurgent Andrew Luck and Indianapolis storming their way into Houston to shrug off the single point bookmakers gave them, slapping down the Texans 21-7. This game was absolutely dominated by the Colts from beginning to end as they made J.J. Watt and Deshaun Watson look like statues. The result was "way under", only hitting 28 when all the top USA online casinos had around 48.5.
The Saturday night affair was a much closer contest as Russel Wilson led Seattle into Dallas and gave their hosts all they could handle. The Cowboys ended up barely winning 24-22, but thanks to Sebastian Janikowski's injury, the Seahawks went for a 2 point conversion after a late touchdown and got it, covering the spread of +2.5. This upset tons of bettors stupid enough to put money on Dallas covering rather than to simply win outright, which was basically paying the same amount. There's a reason sportsbooks will always be in business.
Sunday began in boring fashion as the Chargers dominated the Ravens for the 1st half of their AFC matchup, however, Baltimore fought back to make it a contest, ultimately losing 23-17. Philip Rivers and his Los Angeles teammates didn't need the 2.5 points bookies were giving them and instead looked like they could march all the way to the Super Bowl (and win it). This was another result coming in Under, but only barely as it was set at 41.
Wild-Card Weekend wrapped up with the defending champs rolling into Chicago as playoff underdogs once again, with most experts posting Eagles +6 against the Bears and their dominating defense. However, backup quarterback Nick Foles proved yet again that he would probably be a starter if on any other roster in the league and led Philly to an upset win.
It was Chicago's game to lose in the last 10 seconds and they did just that, courtesy of kicker Cody Parkey hitting the upright and crossbar on his last field goal attempt that surely would have cemented a Bears victory (the incredible play will undoubtedly be forever known as The Double-Doink) Philadelphia ended up hanging on to a 1 point win of 16-15 to advance to face New Orleans in the Superdome this Sunday. The final score was way Under as well, finishing with 31 total points against the line of 41.
Well, there's more fun to be had: on to NFL Divisional Weekend and what's sure to be a ton more excitement…