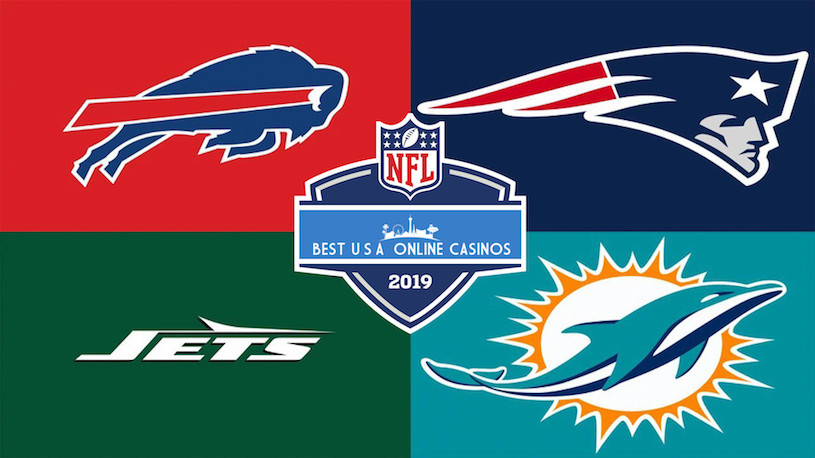 Why even bother reading about the AFC East? The Pats win it again, everyone else misses the playoffs, repeat until we're all dead. It's crazy to realize that until Brady retires, the rest of the teams really don't have a chance – it's sad but true.
Fortunately, this division provides tons of excitement in other ways: primarily through knowing when to bet against the other three in survivor pools. It varies slightly each season but for the most part it's a good idea to not bet against Miami at home and realize that Buffalo can beat anyone, anytime, anywhere. Well except for the Patriots because Brady seems to hand them two losses every year like clockwork (except for 2016).
The Jets, Bills, and Dolphins should win 5, 6, and 7 games in 2019 but it's hard to assign victories since every division match up is a coin toss. Be careful when getting down in the AFC East – the bottom three teams are always hard to predict.
All odds come courtesy of the MyBookie Sportsbook who accepts players from every U.S. state and are currently offering a special welcome bonus for 2019 to all of our readers. For anyone interested, a full explanation of this cheat sheet is at the bottom of the page.
Buffalo Bills 2019 Gambling Cheat Sheet
At first glance it looks like the Bills Mafia might have more to cheer about before games at the tailgate as people are getting thrown through tables. They're huge long shots to do anything at all…including reaching 8 wins. A season win total over/under of 7 seems fair – especially when their starting quarterback is getting odds of +20000 to end the season with the most touchdowns. At least Rich Stadium is easy to get to and the parking lot features some of the best food in New York State – that's certainly something to brag about.
2018 Record: 6-10
Home: 4-4
Away: 2-6
Division: 2-4
Conference: 4-8
2018 Stats:
Points For: 269
Points Against: 374
Difference:

-105

End of Season Streak:

Won 1
2019 Futures Odds:
Over / Under Season Wins: 7

(+1)

Win AFC East: +750
Win AFC: +4000
Win Super Bowl: +8000
Sean McDermott Coach of the Year: +3300
Ed Oliver Defensive Rookie of the Year: +800
Josh Allen Most TDs: +20000
Josh Allen O/U Passing Yards: 3200½
Josh Allen MVP: +8000
Key Players:
QB: Josh Allen
RB: Frank Gore
WR: Cole Beasley
PK: Stephen Hauschka
Conclusion:
Looks like another 6-10 season with the best tailgate parties in the country, hosted by the most passionate binge drinkers in the nation. At least Buffalo fans can look forward to "Mustard Dude" every Sunday.
Miami Dolphins 2019 Gambling Cheat Sheet
Look out South Florida! Your team is being led by no other than Ryan Fitzpatrick, otherwise known as "Fitzmagic". Not even lightning and hurricane winds will stop his Ivy League arm so get ready for some winning this year. He will be absolutely unstoppable for two weeks and the fizzle out into obscurity. It has been written.
It can't be a good sign that the Dolphins have two quarterbacks listed at MyBookie for "Most Passing Touchdowns". This season should be another disappointing one for everyone involved. Especially season ticket holders.
2018 Record: 7-9
Home: 6-2
Away: 1-7
Division: 4-2
Conference: 6-6
2018 Stats:
Points For: 319
Points Against: 433
Difference:

-114

End of Season Streak:

Lost 3
2019 Futures Odds:
Over / Under Season Wins: 4½

(-2½)

Win AFC East: +5000
Win AFC: +10000
Win Super Bowl: +20000
Brian Flores Coach of the Year: +5000
Christian Wilkins Defensive Rookie of the Year: +3300
Ryan Fitzpatrick Most Passing Touchdowns: +12500
Josh Rosen Most Passing Touchdowns: +15000
Josh Rosen MVP: +10000
Key Players:
QB: Ryan Fitzpatrick
QB: Josh Rosen
WR: Brice Butler
DE: Tank Carradine
Conclusion:
These are the second worst projections in the National Football League for 2019, only slightly ahead of the Washington Redskins. At least the Heat should make the playoffs this year.
New England Patriots 2019 Gambling Cheat Sheet
It's no surprise that the bookmakers have had the Patriots as one of the top favorites to win the Super Bowl since March when it was confirmed that both Brady and Belichick were returning for another season. They're slightly behind Kansas City at a few books which could somewhat be defended, but as long as #12 and Hoodie are in uniform they'll be going at least to the AFC Championship game.
Feel free to hammer them all year but watch out for their annual stinker, (2018: Lions, 2017: Miami, 2016: Bills).
2018 Record: 11-5
Home: 8-0
Away: 3-5
Division: 5-1
Conference: 8-4
2018 Stats:
Points For: 436
Points Against: 325
Difference:

+111

End of Season Streak:

Won 2
2019 Futures Odds:
Over / Under Season Wins: 11

(0)

Win AFC East: -475
Win AFC: +325
Win Super Bowl: +650
Bill Belichick Coach of the Year: +1200
Joejuan Williams Defensive Rookie of the Year: +5000
N'Keal Harry Offensive Rookie of the Year: +2000
Damien Harris Offensive Rookie of the Year: +5000
Tom Brady Most Passing Touchdowns: +1400
Tom Brady O/U Passing Yards: 4150½
Tom Brady MVP: +1200
Key Players:
High Sparrow: Bill Belichick
Golden Boy: Tom Brady
RB: Rex Burkhead
RB: Sony Michel
WR: Julian Edelman
WR: Josh Gordon
WR: Matthew Slater
DE: Michael Bennett
LB: Dont'a Hightower
CB: Jason McCourty
S: Patrick Chung
S: Devin McCourty
PK: Stephen Gostkowski
Conclusion:
What can we say that hasn't already been said? Just send them the AFC east banner now and fast forward to a KC / NE AFC title game, please. One of the best yearly value bets is the Monday after their first loss when they drop down the list of Super Bowl favorites. Anyone who thinks that Brady doesn't have it in him again obviously doesn't know about his strict diet – do yourself a favor and go check it out.
New York Jets 2019 Gambling Cheat Sheet
The Jets are coming off of a miserable year that saw them finish last in the division and they're hoping to become competitive again. "Hoping" being the key word in that last sentence.  Based on the astronomical odds below, the one bright spot in 2019 might be rookie Quinnen Williams. You should be able to safely bet against this team all year long, however, watch out mid-season as they always pull themselves together to win one or two games against much stronger opponents. The over/under for season wins looks insanely high – or does Le'Veon Bell by himself add 3 more victories for this dumpster fire of a team? We'll have to wait and see.
2018 Record: 4-12
Home: 2-6
Away: 2-6
Division: 1-5
Conference: 3-9
2018 Stats:
Points For: 333
Points Against: 441
Difference:

-108

End of Season Streak:

Lost 3
2019 Futures Odds:
Over / Under Season Wins: 7½

(+3½)

Win AFC East: +525
Win AFC: +3500
Win Super Bowl: +6500
Adam Gase Coach of the Year: +2800
Quinnen Williams Defensive Rookie of the Year: +700
Sam Darnold Most TDs: +6600
Sam Darnold O/U Passing Yards: 3650½
Sam Darnold MVP: +8000
Key Players:
QB: Sam Darnold
QB: Trevor Siemian
QB: Davis Webb
RB: Le'Veon Bell
WR: Jamison Crowder
C: Ryan Kalil
G: Tom Compton
LB: C.J. Mosely
Conclusion:
There's nothing to get excited about for Jets fans this year – unless Rex Ryan and the Butt Fumbler come back for a second run on Broadway. Take this season off from football and start working on that movie script you're always talking about. Hopefully Adam Gase is fired by the time you finish it.
Explanation and details:

Our simple gambling cheat sheet for NFL 2019 gives busy bettors the foundational information they need, while also bringing veterans back to basics to provide them with clarity. People always make the mistake of looking at too many factors when trying to figure out who will win a game, and sometimes you just have to take a step back and look at the high level info.

The information below is what friend of the site Octavio Von Oromocto looks at each week before making Survivor Pool picks or laying down on underdogs (he's won 6 pools in 9 years). Feel free to dig deeper into the numbers if you want, but the statistics on this page should be more than enough to make an informed decision. If you look at the futures odds on individuals and projected number of regular season wins, a picture begins to form of who that team is as a whole.

If more than one quarterback is listed that means Octavio smells either controversies or missed games ahead. The key players listed are those who have already proven themselves, or ones expected to have a breakout year. Veterans who have slipped down the depth chard are also included because they've proven before that they can be "difference makers", which is the type of intangible you can't see in analytics.

Also, there are many excellent linemen who didn't make the list for simplicity so always check the injury report for starting linemen out for a game because it'll definitely be reflected in the final score. The notes for each team were provided by Octavio and there are very few predictions because he doesn't believe in them – the season is fluid.

If you don't think there are enough key players on the list or that there were errors in inclusions, just copy and paste them into your own list and make adjustments. Also, injured players and holdouts were also included as their return will obviously have an impact.

Although these cheat sheets were designed specifically with Survivor Pools in mind, they are obviously valuable resources to quickly call upon throughout the year if looking to wager on some upsets.

Good luck this year!