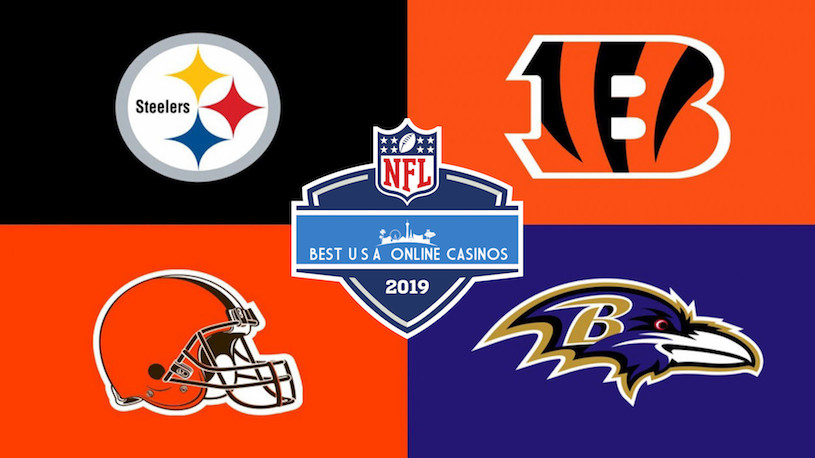 The gambling cheat sheets for the 2019 NFL season continue with the wonky AFC North, which is obviously a division that many will be watching closely this year. Why? Because the Cleveland freakin' Browns are the bookmaker's favorites to win it this year (it's still strange to see that in writing).
Sure the Browns should be much improved but dethroning the Ravens and fending off the Steelers should be a difficult task. There's a ton of pressure on Cleveland this year and anything less than a division title will be disappointing for the city. The good news is that no matter what they should beat Cincinnati twice again and that just has to count for something in "The Factory of Sadness".
Here are the high level stats and all of the 2019 futures for each AFC North team, which will hopefully help you make better gambling decisions this year.
All odds come courtesy of the MyBookie Sportsbook who accepts players from every U.S. state and are currently offering a special welcome bonus for 2019 to all of our readers. For anyone interested, a full explanation of this cheat sheet is at the bottom of the page.
Baltimore Ravens 2019 Gambling Cheat Sheet
This is a transition year for the Ravens as Super Bowl winning quarterback Joe Flacco has been shipped off to Denver. As a result, Lamar Jackson will try to lead the team to a second-straight division title in what should be one of the most exciting races in the league. Jackson proved that he could handle himself throughout 2018 and he should be taking the field with confidence.
It'll be interesting to see if the Ravens can bounce back from the heartbreaking 23-17 loss to the Chargers at home in the Wild Card last year. It's hard to remember they went 6-1 (beating CIN, OAK, ATL, TB, LAC, CLE) to end the regular season before that, looking unstoppable along the way. Look for them to be aggressive right out of the gate.
2018 Record: 10-6
Home: 6-2
Away: 4-4
Division: 3-3
Conference: 8-4
2018 Stats:
Points For: 436
Points Against: 325
Difference:

+102

End of Season Streak:

Won 3
2019 Futures Odds:
Over / Under Season Wins: 8½

(-1½)

Win AFC North: +350
Win AFC: +1400
Win Super Bowl +3000
John Harbaugh Coach of the Year: +1100
Marquise Brown Offensive Rookie of the Year: +1100
Justice Hill Offensive Rookie of the Year: +2500
Lamar Jackson Most Passing Touchdowns: +25000
Lamar Jackson O/U Passing Yards: 3000½
Lamar Jackson MVP: +2500
Key Players:
QB: Lamar Jackson
QB: Robert Griffin III
RB: Mark Ingram II
WR: Willie Snead IV
TE: Nick Boyle
CB: Jimmy Smith
S: Earl Thomas
PK: Justin Tucker
P: Sam Koch
Conclusion:
This cast of characters could finish anywhere in the standings but a record of 12-4 doesn't seem that outrageous. The only thing that might get in the way of finishing atop the AFC is the 4 games with the Steelers and Browns. This might be the most fun division in football this year.
Cincinnati Bengals 2019 Gambling Cheat Sheet
It's sad to see this team start it's slide back down to the bottom but with Andy Dalton in his 9th season and not much help around him, this might be a tragedy you don't want to pay to see. The wheels fell off last year in Week 6 as they lost 2 and then 5 in a row, which could have easily been 11 in a row if they didn't squeak out a 3 point win against Tampa Bay and slap down Oakland by 2 TDs at home.
Cincy fans should stay home this year or just watch games on their phones under the freeways outside the stadium. Make sure to bring lots of booze to drown your sorrows.
2018 Record: 6-10
Home: 4-4
Away: 2-6
Division: 1-5
Conference: 4-8
2018 Stats:
Points For: 368
Points Against: 455
Difference:

-87

End of Season Streak:

Lost 2
2019 Futures Odds:
Over / Under Season Wins: 6

(0)

Win AFC North: +2000
Win AFC: +10000
Win Super Bowl: +20000
Zac Taylor Coach of the Year: +4000
Ryan Finley Offensive Rookie of the Year: +2500
Andy Dalton Most Passing Touchdowns: +5000
Andy Dalton O/U Passing Yards: 3725½
Andy Dalton MVP: +12500
Key Players:
QB: Andy Dalton
RB: Giovani Bernard
RB: Joe Mixon
WR: A.J. Green
TE: Tyler Eifert
TE: C.J. Uzomah
DE: Carlos Dunlap
DT: Geno Atkins
CB: Dre Kirkpatrick
PK: Randy Bullock
Conclusion:
Tied with the Dolphins for odds to win the AFC and Super Bowl can't be a good thing. Welcome to the jungle? Nope – back to the "Bungles".
Cleveland Browns 2019 Gambling Cheat Sheet
The victory parade route has already been planned for February and preparations are being made across the city. It looks like the Browns are destined to win it all so just sit back and watch it unfold. Obviously expectations are sky-high so it'll be very hard for these new-look Browns to deliver the goods.
When gambling on games involving Cleveland this year remember that over the first 5 weeks in 2018 they went 1-1-1 in overtime games and only lost to the Saints by 3 (and could have easily won it at the end). Of course, this was followed by 4 losses in a row which basically sank them, but they went on to finish strong with a 5-2 record (beating ATL, CAR, DEN, CIN x 2), so who knows what's ultimately on tap. For some reason, 9 wins sounds about right.
2018 Record: 7-8
Home: 5-2-1
Away: 2-6
Division: 3-2-1
Conference: 5-6-1
2018 Stats:
Points For: 359
Points Against: 392
Difference:

-33

End of Season Streak:

Lost 1
2019 Futures Odds:
Over / Under Season Wins: 9

(+2)

Win AFC North: +140
Win AFC: +700
Win Super Bowl: +1300
Freddie Kitchens Coach of the Year: +1100
Greedy Williams Defensive Rookie of the Year: +2500
Baker Mayfield Most Passing Touchdowns: +1200
Baker Mayfield O/U Passing Yards: 4325½
Baker Mayfield MVP: +1200
Key Players:
QB: Baker Mayfield
QB: Drew Stanton
RB: Nick Chubb
WR: Odell Beckham Jr.
WR: Antonio Callaway
WR: Jarvis Landry
DE: Myles Garrett
RDT: Sheldon Richardson
S: Damarious Randall
P: Britton Colquitt
Conclusion:
Haven't you been listening? They're winning the Super Bowl this year…or crushing the souls of Cleveland sports fans…again. Either way, it's been a long time since they were the #4 favorite to win the AFC so it'll definitely be a fun ride.
Pittsburgh Steelers 2019 Gambling Cheat Sheet
After missing the playoffs last year you'd better believe that the Steelers are going to have a chip on their shoulder going into this season. Especially since this could very well be Roethlisberger's last time putting on a jersey – expect some inspired play.
They sputtered out of the gate in 2018 with a 1-2-1 record but then rattled off 6 wins in a row before losing 4 out of 5, which is even more crushing since they blew a second half lead each time (losing to DEN, LAC, OAK, and NO while waking up to beat NE by 7 at home in Week 15).
That said, it's hard to shake the feeling that this era of the team has run its course. There's been constant bickering in the locker room, Big Ben has looked totally disinterested for large chunks of seasons, two superstar players bolted out of town, and Coach Tomlin doesn't appear to be able to control any part of this circus. This could be the season that the wheels finally fall off.
2018 Record: 9-6
Home: 5-3
Away: 4-3-1
Division: 4-1-1
Conference: 6-5-1
2018 Stats:
Points For: 428
Points Against: 360
Difference:

+68

End of Season Streak:

Won 1
2019 Futures Odds:
Over / Under Season Wins: 9

(0)

Win AFC North: +150
Win AFC: +850
Win Super Bowl: +2000
Mike Tomlin Coach of the Year: +2800
Devin Bush Jr. Defensive Rookie of the Year: +500
Ben Roethlisberger Most Passing Touchdowns: +1200
Ben Roethlisberger O/U Passing Yards: 4450½
Ben Roethlisberger MVP: +2500
Key Players:
QB: Ben Roethlisberger
RB: James Conner
RB: Jaylen Samuels
WR: JuJu Smith-Schuster
WR: Donte Moncrief
WR: Ryan Switzer
TE: Vance McDonald
C: Maurkice Pouncey
WLB: T.J. Watt
RILB: Vince Williams
LCB: Joe Haden
PK: Chris Boswell
Conclusion:
It's foolhardy to make predictions in professional football but with a gun to our head we'd say the Steelers start with some gusto but quickly run out of steam (taking many Survivor Pool picks with them). Finishing in the cellar of the AFC North this year might actually be on the table. Oh wait, the Bengals are still in this division…they can only fall as low as third. Silver linings!
Explanation and details:

Our simple gambling cheat sheet for NFL 2019 gives busy bettors the foundational information they need, while also bringing veterans back to basics to provide them with clarity. People always make the mistake of looking at too many factors when trying to figure out who will win a game, and sometimes you just have to take a step back and look at the high level info.

The information below is what friend of the site Octavio Von Oromocto looks at each week before making Survivor Pool picks or laying down on underdogs (he's won 6 pools in 9 years). Feel free to dig deeper into the numbers if you want, but the statistics on this page should be more than enough to make an informed decision. If you look at the futures odds on individuals and projected number of regular season wins, a picture begins to form of who that team is as a whole.

If more than one quarterback is listed that means Octavio smells either controversies or missed games ahead. The key players listed are those who have already proven themselves, or ones expected to have a breakout year. Veterans who have slipped down the depth chard are also included because they've proven before that they can be "difference makers", which is the type of intangible you can't see in analytics.

Also, there are many excellent linemen who didn't make the list for simplicity so always check the injury report for starting linemen out for a game because it'll definitely be reflected in the final score. The notes for each team were provided by Octavio and there are very few predictions because he doesn't believe in them – the season is fluid.

If you don't think there are enough key players on the list or that there were errors in inclusions, just copy and paste them into your own list and make adjustments. Also, injured players and holdouts were also included as their return will obviously have an impact.

Although these cheat sheets were designed specifically with Survivor Pools in mind, they are obviously valuable resources to quickly call upon throughout the year if looking to wager on some upsets.

Good luck this year!