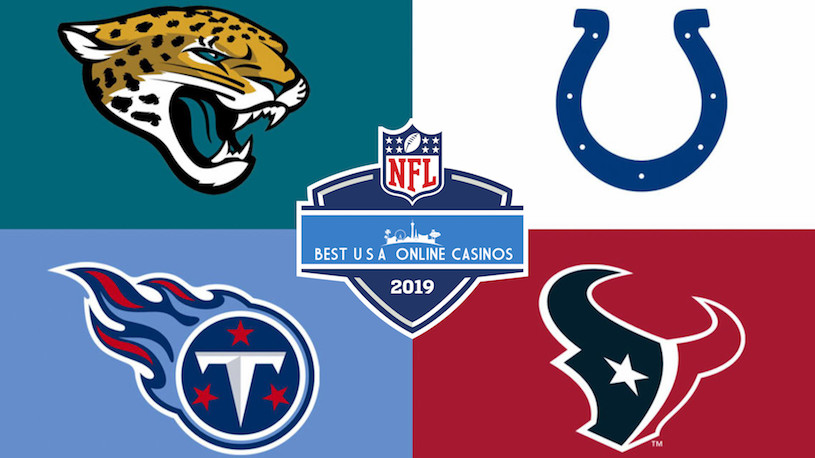 Welcome to the rootin' tootin' AFC South where every team has a chance of winning the division each and ever year – especially now that the Jags added Super Bowl Champion Nick Foles to their roster. No one knows how things will go this season but one thing's for sure, there shouldn't be too much of a win differential between first and worst.
To spoil the surprise of a few of the numbers below, David Strauss at MyBookie has the win totals in the division looking like this come January. Yes, he's basically saying that there's a very good chance that every team could be 8-8 to finish the year…do you believe us now that this is the hardest division in football to predict?
Texans 8.5-7.5
Jaguars 8-8
Titans 8-8
Colts 7.5-8.5
So what the heck are we to make of that? Well, exactly what we should make of his odds for 2019 AFC South champion:
Texans +110
Jaguars +250
Titans +350
Colts +500
In short, he has no freakin' clue what's going to happen so neither should you.
It seems like everyone in the world has given up on the Colts after Luck's retirement and this just might be the spark the team needed. If there was ever a locker room where the "nobody believes in us" speech was accurate, it's in Indianapolis this year. The only problem is that coaches in the locker rooms of Houston, Tennessee, and Jacksonville could also be pulling this out and have it apply. Close your eyes and throw a dart.
All odds come courtesy of the MyBookie Sportsbook who accepts players from every U.S. state and are currently offering a special welcome bonus for 2019 to all of our readers. For anyone interested, a full explanation of this cheat sheet is at the bottom of the page.
Houston Texans 2019 Gambling Cheat Sheet
Will this team ever get on solid ground? It seems like they go into each season with high hopes, only to have them dashed with sad injuries or underperformance. Or they'll have an amazing season (like last year) and get booted out in the first round (extra harsh since it was at the hands of a hated division rival).
These guys usually like to start off slow, exactly like San Diego used to, and last year was no different with an 0-3 record in the books before rattling off 9 wins in a row (IND, DAL, BUF, JAX, MIA, DEN, WASH, TEN, CLE) before losing a squeaker to the Colts 24-21 at home. They only lost once more to the Eagles after that (32-30), meaning that they were only 5 points away from an amazing 13 game winning streak. These guys might be good this year.
2018 Record: 11-5
Home: 6-2
Away: 5-3
Division: 4-2
Conference: 9-3
2018 Stats:
Points For: 402
Points Against: 316
Difference:

+86

End of Season Streak:

Won 1
2019 Futures Odds:
Over / Under Season Wins: 8½ (

-2½

)
Win AFC South: +110
Win AFC Championship: +1400
Win Super Bowl: +3000
Bill O'Brien Coach of the Year: +2800
Lonnie Johnson Jr. Defensive Rookie of the Year: +5000
Deshaun Watson Most Passing Touchdowns: +1600
Deshaun Watson O/U Passing Yards: 4075½
Deshaun Watson MVP: +1800
Key Players:
QB: Deshaun Watson
QB: AJ McCarron
QB: Joe Webb III
WR: DeAndre Hopkins
WR: Will Fuller V
RB: Taiwan Jones
LT: Matt Kalil
LDE: J.J. Watt
WLB: Whitney Mercilus
P: Bryan Anger
Conclusion:
With a roster featuring those studs they should definitely repeat as AFC South Champions in 2019… as long as they stay healthy. Hopefully the loss of star running back Lamar Miller in the preseason will be the only bad luck they encounter and fans across the nation can enjoy seeing J.J. Watt on the field in December.
Indianapolis Colts 2019 Gambling Cheat Sheet
The Colts went from "Super Bowl Contender" to "Franchise in Transition" for the 2019 season after Andrew Luck shockingly retired a few weeks ago. This was unfortunate because their 2018 campaign was inspiring, to say the least. After starting the season 1-5 and being left for dead, they rallied to win 9 of their last 10 (beating BUF, OAK, JAX, TEN, MIA, HOU, DAL, NYG, and TEN), with Luck looking like a Hall of Fame QB in the process.
The good news for Colts fans is that Jacoby Brissett has had flashes of greatness and Adam Vinatieri got approval from the league to use his walker on the sidelines. This could get interesting.
2018 Record: 10-6
Home: 6-2
Away: 4-4
Division: 4-2
Conference: 7-5
2018 Stats:
Points For: 433
Points Against: 344
Difference:

+89

End of Season Streak: 

Won 4
2019 Futures Odds:
Over / Under Season Wins: 7½ (

-2½

)
Win AFC South: +500
Win AFC Championship: +2200
Win Super Bowl: +4000
Frank Reich Coach of the Year: +1400
Rock Ya-Sin Defensive Rookie of the Year: +4000
Ben Banogu Defensive Rookie of the Year: +6000
Parris Campbell Offensive Rookie of the Year: +2500
Key Players:
QB: Jacoby Brissett
RB: Marlon Mack
WR: T.Y. Hilton
WR: Devin Funchess
WR: Chester Rogers
PK: Adam Vinatieri
Conclusion:
These guys have nothing to lose and some talent to go along with it. Don't bet against them lightly. And yes we're joking about the walker but good lord…Vinataieri turns 47 years old in December. His discovery of the fountain of youth might be the last bit of inspiration the Colts need to get ahead of the pack.
Jacksonville Jaguars 2019 Gambling Cheat Sheet
What a difference a year makes…and then another one. Some experts had the Jags in the Super Bowl last year before the start of the season but instead of reaching the playoffs they just imploded and let down all 800 of their fans.
Everyone who piled on Jacksonville in Week 4 of 2018 against the Jets in their Survivor Pools were happy they got them out of the way since they went on to lose the next 7 in a row (KC, DAL, HOU, PHI, IND, PIT, BUF) before smashing the Colt's win streak with a "decisive" 6-0 victory at home. They then lost 3 of the last 4 and quietly packed up their lockers for the season, ensuring Blake Bortles' career with the team went out with a whimper not a bang.
The entire nation is breathlessly waiting to see what Nick Foles and his championship pedigree can do in Jax. It's probably the best to stay away from them for the first few weeks until we get an idea of how this team is gelling.
2018 Record: 5-11
Home: 3-5
Away: 2-6
Division: 1-5
Conference: 4-8
2018 Stats:
Points For: 245
Points Against: 316
Difference:

-71

End of Season Streak:

Lost 1
2019 Futures Odds:
Over / Under Season Wins: 8 (

+3

)
Win AFC South: +250
Win AFC Championship: +1400
Win Super Bowl: +3500
Doug Marrone Coach of the Year: +2500
Josh Allen Defensive Rookie of the Year: +900
Nick Foles Most Passing Touchdowns: +10000
Nick Foles O/U Passing Yards: 3825½
Nick Foles MVP: +8000
Key Players:
QB: Nick Foles
RB: Alfred Blue
RB: Leonard Fournette
RB: Elijah Hood
WR: Marquise Lee
WR: Dede Westbrook
CB: Jalen Ramsey
PK: Josh Lambo
Conclusion:
They'll be fun to watch with Foles chucking it down field all season but it probably won't be enough to get ahead of the Texans…or the Colts. Either way we're just happy to finally have a reason to watch a Jags game.
Tennessee Titans 2019 Gambling Cheat Sheet
Which Titans team is showing up in 2019? Your guess is as good as anyone's but no matter which it is, they're probably still miffed that Marcus Mariota watched the last game of 2018 from the sidelines. Losing to a hated division rival is one thing, but Indianapolis whooping them 33-17 in primetime to snag the last playoff spot for the year had to sting (although many fans were ecstatic that Blaine Gabbert's 2 INTs got him banished to Tampa Bay in the offseason).
Expect this team to have a bit of an attitude right out of the gate.
2018 Record: 9-7
Home: 6-2
Away: 3-5
Division: 3-3
Conference: 5-7
2018 Stats:
Points For: 310
Points Against: 303
Difference:

+7

End of Season Streak:

Lost 1
2019 Futures Odds:
Over / Under Season Wins: 8 (

-1

)
Win AFC South: +350
Win AFC Championship: +2400
Win Super Bowl: +4500
Mike Vrabel Coach of the Year: +3300
Jeffery Simmons Defensive Rookie of the Year: +2500
A.J. Brown Offensive Rookie of the Year: +3000
Marcus Mariota Most Passing Touchdowns: +15000
Marcus Mariota O/U Passing Yards: 3025½
Marcus Mariota MVP: +8500
Key Players:
QB: Marcus Mariota
QB: Ryan Tannehill
RB: Derrick Henry
RB: Dion Lewis
WR: Corey Davis
WR: Adam Humphries
TE: Delanie Walker
C: Ben Jones
WLB: Cameron Wake
LILB: Jayon Brown
RCB: Malcolm Butler
PK: Ryan Succop
Conclusion:
This smells like a solid 8-8 campaign in 2019 with a few disappointing losses along the way so it's probably not safe to bet on or against them. That said, perhaps this is Mariota's breakthrough year, which we'll know for sure by Week 3. Cleveland, Indy, and Jax should be enough of a litmus test for this squad: remember to reevaluate your opinion of them at the end of September.
Explanation and details:

Our simple gambling cheat sheet for NFL 2019 gives busy bettors the foundational information they need, while also bringing veterans back to basics to provide them with clarity. People always make the mistake of looking at too many factors when trying to figure out who will win a game, and sometimes you just have to take a step back and look at the high level info.

The information below is what friend of the site Octavio Von Oromocto looks at each week before making Survivor Pool picks or laying down on underdogs (he's won 6 pools in 9 years). Feel free to dig deeper into the numbers if you want, but the statistics on this page should be more than enough to make an informed decision. If you look at the futures odds on individuals and projected number of regular season wins, a picture begins to form of who that team is as a whole.

If more than one quarterback is listed that means Octavio smells either controversies or missed games ahead. The key players listed are those who have already proven themselves, or ones expected to have a breakout year. Veterans who have slipped down the depth chard are also included because they've proven before that they can be "difference makers", which is the type of intangible you can't see in analytics.

Also, there are many excellent linemen who didn't make the list for simplicity so always check the injury report for starting linemen out for a game because it'll definitely be reflected in the final score. The notes for each team were provided by Octavio and there are very few predictions because he doesn't believe in them – the season is fluid.

If you don't think there are enough key players on the list or that there were errors in inclusions, just copy and paste them into your own list and make adjustments. Also, injured players and holdouts were also included as their return will obviously have an impact.

Although these cheat sheets were designed specifically with Survivor Pools in mind, they are obviously valuable resources to quickly call upon throughout the year if looking to wager on some upsets.

Good luck this year!