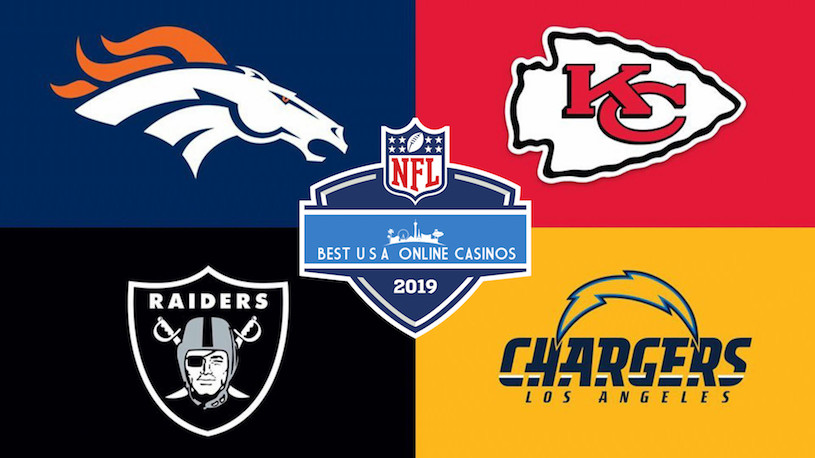 One of the most exciting and historic divisions in football looks like it's going to be a two team race in 2019, well, at least according to the "experts", but what the heck do they know. Most people love this division because the teams are always playing in the late afternoon games allowing more time for screaming at the television as the Raiders decide to play hard enough to cover the spread and ruin your 5 team parlay. It happens every year.
Hopefully, the Chargers relocate back to San Diego mid-season and restore balance to the NFL Universe. How in the hell did the league ever approve that move in the first place? Oh right – money.
Speaking of the almighty dollar, knowing when to pick against AFC West teams in a Survivor Pool is a key component to ultimately coming out on top at the end of the year. It doesn't matter who the bottom two teams in the division are in any given year: don't pick against them when they play each other, and don't pick against them in the second half of the season if they're at home.
Even though Denver and Oakland will never fully lay down and roll over, there will still be plenty of times to bet against them – just make sure you do it in September or October.
All odds come courtesy of the MyBookie Sportsbook who accepts players from every U.S. state and are currently offering a special welcome bonus for 2019 to all of our readers. For anyone interested, a full explanation of this cheat sheet is at the bottom of the page.
Denver Broncos 2019 Gambling Cheat Sheet
Football legend John Elway continues to lead this franchise, which is well-deserved after he was personally responsible for delivering 3 Super Bowl titles to The Mile High City throughout his lifetime. It's hard to imagine that they'd ever fire him but goodness gracious, how much slack are they going to give him? If Joe Flacco isn't the magic potion the Broncos needed to get back to the playoffs in 2019, Elway might end up as an analyst on the NFL Network. (He'd be great.)
What really killed the Case Keenum (now with the Redskins) campaign last year was hitting losing skids and not being able to snap out of them. After starting the season 2-0 they lost 4 (BAL, KC, NYJ, LAR) before flip flopping their way to a respectable 6-6 record, just in time to finish off the year by dropping four straight (SF, CLE, OAK, LAC). With an over/under for season wins of 7, it doesn't look like the bookmakers give them much of a chance to do much better in 2019.
2018 Record: 6-10
Home: 3-5
Away: 3-5
Division: 2-4
Conference: 4-8
2018 Stats:
Points For: 329
Points Against: 349
Difference:

-20

End of Season Streak:

Lost 4
2019 Futures Odds:
Over / Under Season Wins: 7

(+1)

Win AFC West: +1300
Win AFC Championship: +5000
Win Super Bowl: +10000
Vic Fangio Coach of the Year: +2000
Drew Lock Offensive Rookie of the Year: +3000
Noah Fant Offensive Rookie of the Year: +2000
Joe Flacco Most Passing Touchdowns: +12500
Joe Flacco O/U Passing Yards: 3250½
Joe Flacco MVP: +7000
Key Players:
QB: Joe Flacco
RB: Devontae Booker
RB: Theo Riddick
WR: Emmanuel Sanders
LB: Von Miller
PK: Brandon McManus
Conclusion:
With a roster this diverse and young led by a Super Bowl winning QB, Denver is either going 5-11 or 11-5. Middling at 7-9 just doesn't pass the smell test so we're expecting a surprise in either direction.
Kansas City Chiefs 2019 Gambling Cheat Sheet
Expectations are sky-high for this squad in 2019 and this is the year that many see the Chiefs finally returning to the Super Bowl. After losing to New England at home in the AFC Championship in overtime last January they're either going to have a hangover or a chip on their shoulder. We'll know which one it is at the conclusion of Week 6 after the Texans game.
After only losing in 2018 to LAC, NE, LAR and a tough one in Seattle, these guys proved they know how to get the job done. If they can block out how last season ended they should easily go through most of the league without an issue.
2018 Record: 12-4
Home: 7-1
Away: 5-3
Division: 5-1
Conference: 10-2
2018 Stats:
Points For: 565
Points Against: 421
Difference:

+144

End of Season Streak:

Won 1
2019 Futures Odds:
Over / Under Season Wins: 10½

(-1½)

Win AFC West: -180
Win AFC Championship: +275
Win Super Bowl: +550
Andy Reid Coach of the Year: +1400
Juan Thornhill Defensive Rookie of the Year: +4000
Mecole Hardman Offensive Rookie of the Year: +1600
Patrick Mahomes Most Passing Touchdowns: +250
Patrick Mahomes O/U Passing Yards: 4650½
Patrick Mahomes MVP: +500
Key Players:
QB: Patrick Mahomes
WR: Tyreek Hill
WR: Sammy Watkins
WR: Demarcus Robinson
TE: Travis Kelce
DE: Alex Okafor
S: Eric Berry
P: Dustin Colquitt
Conclusion: 
Many places have them listed as the current favorite to win the 2019 Super Bowl so expect them to do some damage before inevitably losing to the Patriots (+325 to win AFC Championship) at home again in the title game. Don't blame the Pats, blame Father Time's inability to find New England on a roadmap.
Los Angeles Chargers 2019 Gambling Cheat Sheet
We weren't going to include this team out of respect for the great city of San Diego, but unfortunately gambling has to come first. If it's any consolation, they might suffer from "The Curse of the Whale's Vagina" and never have a 10 win season again. In any event, this should be their last chance for quite some time.
Philip Rivers is getting dangerously close to the end of his career and if you've ever seen him on the sidelines after one of his receivers dropped a pass on 3rd down, you know this guy wants to win (and should probably get some anger management counselling). Most people thought that his best chances of going to the Super Bowl were behind him but the Chargers' 2018 campaign was outstanding. Their only four regular season losses were to division rivals Kansas City and Denver, as well as the Rams and Ravens. That's nothing to be ashamed of at all.
However, 2019 is starting off shaky with the team deciding not to negotiate with star running back Melvin Gordon, effectively calling his bluff or telling other teams that he's on the trading block. This might leave a hole in their offense that's just too big to fill. The good news is that the first half of their schedule is relatively easy so that might give them enough time to figure things out…whether Gordon is on the field and dressed for them or not.
2018 Record: 12-4
Home: 5-3
Away: 7-1
Division: 4-2
Conference: 9-3
2018 Stats:
Points For: 428
Points Against: 329
Difference:

+99

End of Season Streak:

Won 1
2019 Futures Odds:
Over / Under Season Wins: 10

(-2)

Win AFC West: +200
Win AFC Championship: +625
Win Super Bowl: +1500
Anthony Lynn Coach of the Year: +2000
Jerry Tillery Defensive Rookie of the Year: +2500
Nasir Adderley Defensive Rookie of the Year: +3300
Philip Rivers Most Passing Touchdowns: +1600
Philip Rivers O/U Passing Yards: 4300½
Philip Rivers MVP: +2200
Key Players:
QB: Philip Rivers
RB: Melvin Gordon
WR: Keenan Allen
WR: Travis Benjamin
C: Mike Pouncey
LDE: Joey Bosa
RDE: Melvin Ingram
S: Adrian Philips
If you thought you saw Philip Rivers shouting at his teammates a lot in previous years, just you wait – this his 16th season in the league and he doesn't have many more shots at a ring. The key will be how the team responds to his petulant outbursts late in games when times get tough. They could feasibly finish below .500 in 2019 if they don't find their chemistry before October.
Oakland Raiders 2019 Gambling Cheat Sheet
This will probably be the last year for this team in Oakland and it's looking to be a sad one. Derek Carr played the entire 2018 season but really didn't "wow" the nation like he did before his terrible injury. It's always fun to watch Raider Nation get crazy so hopefully they pull it together enough to give them a few home wins on their way out the door.
However, after beating CLE by 3 in OT, ARI by 2 points, PIT by 3 at home, and a "no one cares victory" over DEN in Week 16, it doesn't look like there's much to build on here. Of course, new superstar Antonio Brown might have something to say about that…
2018 Record: 4-12
Home: 3-5
Away: 1-7
Division: 1-5
Conference: 3-9
2018 Stats:
Points For: 290
Points Against: 467
Difference:

-177

End of Season Streak:

Lost 1
2019 Futures Odds:
Over / Under Season Wins: 6

(+2)

Win AFC West: +220
Win AFC Championship: +5000
Win Super Bowl: +10000
Jon Gruden Coach of the Year: +4000
Clelin Ferrell Defensive Rookie of the Year: +1500
Jonathan Abram Defensive Rookie of the Year: +3300
Trayvon Mullen Defensive Rookie of the Year: +4000
Josh Jacobs Offensive Rookie of the Year: +600
Derek Carr Most Passing Touchdowns: +2800
Derek Carr O/U Passing Yards: 4100½
Derek Carr MVP: +7000
Key Players:
Possessed Doll: Jon Gruden
QB: Derek Carr
QB: Mike Glennon
QB: Nathan Peterman
RB: Josh Jacobs
WR: Antonio Brown
WR: Tyrell Williams
LG: Richie Incognito
C: Rodney Hudson
MLB: Vontaze Burfict
Conclusion:
Whether or not this is their last season in Oakland, we hope they get enough fans at each game to finally take the tarps off those upper bowl seats (CBS loves to swoop by them when returning from commercial breaks – the director is probably a Broncos fan). It's always sad to see a team relocate but if they're not selling tickets, it's kind of understandable.
More than likely the most interesting stories coming out of Oak Town this year will involve Burfict and Brown teaming up to wreak havoc on the champaign rooms across the Bay Area. The unofficial over/under for "number of arrests" by the duo has been set at 3.
Explanation and details:

Our simple gambling cheat sheet for NFL 2019 gives busy bettors the foundational information they need, while also bringing veterans back to basics to provide them with clarity. People always make the mistake of looking at too many factors when trying to figure out who will win a game, and sometimes you just have to take a step back and look at the high level info.

The information below is what friend of the site Octavio Von Oromocto looks at each week before making Survivor Pool picks or laying down on underdogs (he's won 6 pools in 9 years). Feel free to dig deeper into the numbers if you want, but the statistics on this page should be more than enough to make an informed decision. If you look at the futures odds on individuals and projected number of regular season wins, a picture begins to form of who that team is as a whole.

If more than one quarterback is listed that means Octavio smells either controversies or missed games ahead. The key players listed are those who have already proven themselves, or ones expected to have a breakout year. Veterans who have slipped down the depth chard are also included because they've proven before that they can be "difference makers", which is the type of intangible you can't see in analytics.

Also, there are many excellent linemen who didn't make the list for simplicity so always check the injury report for starting linemen out for a game because it'll definitely be reflected in the final score. The notes for each team were provided by Octavio and there are very few predictions because he doesn't believe in them – the season is fluid.

If you don't think there are enough key players on the list or that there were errors in inclusions, just copy and paste them into your own list and make adjustments. Also, injured players and holdouts were also included as their return will obviously have an impact.

Although these cheat sheets were designed specifically with Survivor Pools in mind, they are obviously valuable resources to quickly call upon throughout the year if looking to wager on some upsets.

Good luck this year!