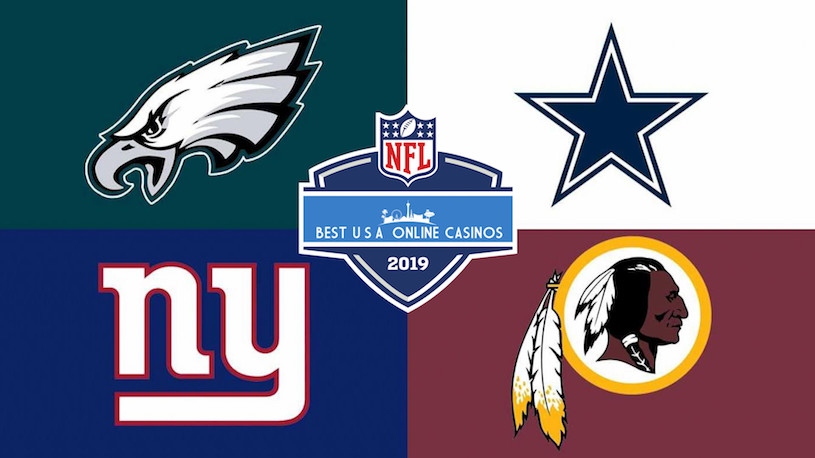 The NFC East is always up for grabs although the Giants and Redskins have been bottom-feeding for a few seasons now. Of course, we all know that New York can seemingly wake up and go win themselves a Super Bowl anytime they feel like it. However, that seems almost next to impossible in 2019 as Eli fades into retirement mode and appear to be taking the year off.
The Case Keenum Era begins in Washington, assuring them of a minimum of 3 wins this year. The Eagles traded away the best "back up" quarterback in the world and the Cowboys have been experiencing personnel issues since July. Looks like we'll have another 10-6 NFC East representative in the playoffs again – or maybe even 9-7. As always, never pick one of these teams when they're playing within in the division as 3-10 squads habitually rally for upsets in late November.
All odds come courtesy of the MyBookie Sportsbook who accepts players from every U.S. state and are currently offering a special welcome bonus for 2019 to all of our readers. For anyone interested, a full explanation of this cheat sheet is at the bottom of the page.
Dallas Cowboys 2019 Gambling Cheat Sheet
When you're pulling legends like Jason Witten out of retirement with the possibility of a Super Bowl ring you know there has to be something special going down in "Big D". However, salary disputes and in-fighting are threatening to spoil the 2019 season before it even kicks off. This team will either go to the Super Bowl in February or implode and go 5-11. Book it.
Losing a winnable game against the Rams in the playoffs last year stung but not as much as their opening day stinker in Carolina. At the end of Week 5 we'll know where this team is at, having faced two division foes plus the Saints and Packers.
2018 Record: 10-6
Home: 7-1
Away: 3-5
Division: 5-1
Conference: 9-3
2018 Stats:
Points For: 339
Points Against: 324
Difference:

+15

End of Season Streak:

Won 2
2019 Futures Odds:
Over / Under Season Wins: 9

(-1)

Win NFC East: +160
Win NFC Championship:+1000
Win Super Bowl: +2200
Jason Garrett Coach of the Year: +2800
Trysten Hill Defensive Rookie of the Year: +5000
Dak Prescott Most Passing Touchdowns: +7500
Dak Prescott O/U Passing Yards: 3850½
Dak Prescott MVP: +5500
Key Players:
Carnival Barker: Jerry Jones
QB: Dak Prescott
RB: Ezekiel Elliott
RB: Alfred Morris
WR: Amari Cooper
WR: Tavon Austin
WR: Michael Gallup
WR: Randall Cobb
FB: Jamize Olawale
TE: Jason Witten
C: Travis Frederick
LDE: DeMarcus Lawrence
LDT: Maliek Collins
SLB: Sean Lee
PK: Brett Maher
Conclusion:
Jerry Jones owes it to Witten to regain control of this franchise and make a solid run. Or Jones could just do all Cowboys fans a favor and completely retire and only come out twice a year to have his son-in-law clean his glasses in his luxury suite. These guys can lose to anybody in the league – even Miami – so proceed with extreme caution.
New York Giants 2019 Gambling Cheat Sheet
The Giants traded away the best wide receiver in the league (to the Browns, no less) which basically signals to the fanbase that this year's campaign is simply a "Farewell Tour" for Eli Manning. He brought the franchise 2 Super Bowls, both against a hated Boston team, so the respect is deserved.
Besides a decisive win in Washington last year this squad beat HOU by 5 in Week3 and squeaked out 4, 3, and 3 point wins against SF, TB, and CHI respectively. It's hard to see them putting up much more of a fight than that this season. Tons of great opportunities to pick against them in your 2019 Survivor Pools.
2018 Record: 5-11
Home: 2-6
Away: 3-5
Division: 1-5
Conference: 4-8
2018 Stats:
Points For: 369
Points Against: 412
Difference:

-43

End of Season Streak:

Lost 3
2019 Futures Odds:
Over / Under Season Wins: 6

(+1)

Win NFC East: +1800
Win NFC Championship: +6500
Win Super Bowl: +12500
Pat Shurmur Coach of the Year: +5000
Dexter Lawrence Defensive Rookie of the Year: +5000
Deandre Baker Defensive Rookie of the Year: +3300
Daniel Jones III Offensive Rookie of the Year: +2000
Eli Manning Most Passing Touchdowns: +15000
Eli Manning MVP: +12500
Key Players:
QB: Eli Manning
RB: Saquon Barkley
WR: Sterling Shepard
WR: Golden Tate
WR: Cody Latimer
LT: Nate Solder
Conclusion:
It seems kind of weird that MyBookie is projecting them to do better this year than last. Watch out for the trap – they love to bait gamblers from New York (as well as Boston) knowing they'll throw down money to back their team in even the most outrageous of circumstances. Take the under 6 season wins and hope for good draft selections in 2020.
Philadelphia Eagles 2019 Gambling Cheat Sheet
Eagles fans got their Super Bowl victory against hated New England a few years ago so the desperation wafting from Philly has subsided and the general scent of the town has once again returned to cheesesteaks. This bodes well for Carson Wentz since the pressure will be reduced slightly, especially since he can't fall back on Wonder Boy Nick Foles anymore (who came in on Week 15 last year and saved the season with 3 straight wins throwing for 270, 471, and 221).
Before that run, the Eagles had questionable losses to TB (27-21), TEN (26-23 OT), MIN (23-21), and CAR (21-17). Of course, those pale in comparison to losing to the Cowboys twice.
2018 Record: 9-7
Home: 5-3
Away: 4-4
Division: 4-2
Conference: 6-6
2018 Stats:
Points For: 367
Points Against: 348
Difference:

+19

End of Season Streak:

Won 3
2019 Futures Odds:
Over / Under Season Wins: 10

(+1)

Win NFC East: -160
Win NFC Championship: +500
Win Super Bowl: +1100
JJ Arcega-Whiteside Offensive Rookie of the Year: +3300
Miles Sanders Offensive Rookie of the Year: +2000
Carson Wentz Most Passing Touchdowns: +1000
Carson Wentz O/U Passing Yards: 4250½
Carson Wentz MVP: +800
Key Players:
QB: Carson Wentz
QB: Josh McCown
RB: Jordan Howard
RB: Darren Sproles
WR: Alshon Jeffery
WR: DeSean Jackson
TE: Zach Ertz
C: Jason Kelce
LDE: Brandon Graham
LDT: Fletcher Cox
RDT: Malik Jackson
MLB: Zach Brown
SS: Malcolm Jenkins
Doug Pederson Coach of the Year: +1600
Conclusion:
With so many veterans on defense it seems reasonable that this group could keep opponents from exploding on them throughout the year, giving them a solid chance to win each week. Wentz should wobble his way to at least 9 or 10 wins, giving the Eagles a shot at the division title or a Wild Card birth. When they inevitably have a misstep and lose Week 8 in Buffalo it'll have gamblers screaming to the heavens. Trap game.
Washington Redskins 2019 Gambling Cheat Sheet
After beating ARI, GB, CAR, DAL and the NYG in 2018 to get to 5-2, things got a little shaky before the entire season crashed and burned with Alex Smith's horrific injury in Week 11 against the Texans. The team's only success from that point on was a 3 point win at Jacksonville between two teams still in shock that their hopeful seasons had become nightmares.
Expect to see at least 2 starting quarterbacks for the Skins in 2019 and possibly one or two more. It feels like this franchise might be a little cursed due to their monicker and cocky owner so don't be surprised if there's another season full of trauma and sadness.
2018 Record: 7-9
Home: 3-5
Away: 4-4
Division: 2-4
Conference: 6-6
2018 Stats:
Points For: 281
Points Against: 359
Difference:

-78

End of Season Streak:

Lost 2
2019 Futures Odds:
Over / Under Season Wins: 6

(-1)

Win NFC East: +1800
Win NFC Championship: +7500
Win Super Bowl: +15000
Jay Gruden Coach of the Year: +5000
Montez Sweat Defensive Rookie of the Year: +1400
Dwayne Haskins Offensive Rookie of the Year: +700
Bryce Love Offensive Rookie of the Year: +2500
Case Keenum Most Passing Touchdowns: +20000
Dwayne Haskins Most Passing Touchdowns: +20000
Dwayne Haskins MVP: +15000
Key Players:
QB: Case Keenum
QB: Colt McCoy
QB: Dwayne Haskins
RB: Adrian Peterson
WR: Paul Richardson
TE: Jordan Reed
LT: Trent Williams
RILB: Jon Bostic
LCB: Josh Norman
LCB: Dominique Rodgers-Cromartie
PK: Dustin Hopkins
P: Tress Way
Conclusion:
Boasting some solid veteran talent, this team should remain prideful enough to keep it close to a .500 season, especially since they're facing MIA, BUF, NYJ, DET, CAR, and NYG x2. These guys can ultimately beat anyone on a good day so don't go against them thinking it's a "sure thing".
Explanation and details:

Our simple gambling cheat sheet for NFL 2019 gives busy bettors the foundational information they need, while also bringing veterans back to basics to provide them with clarity. People always make the mistake of looking at too many factors when trying to figure out who will win a game, and sometimes you just have to take a step back and look at the high level info.

The information below is what friend of the site Octavio Von Oromocto looks at each week before making Survivor Pool picks or laying down on underdogs (he's won 6 pools in 9 years). Feel free to dig deeper into the numbers if you want, but the statistics on this page should be more than enough to make an informed decision. If you look at the futures odds on individuals and projected number of regular season wins, a picture begins to form of who that team is as a whole.

If more than one quarterback is listed that means Octavio smells either controversies or missed games ahead. The key players listed are those who have already proven themselves, or ones expected to have a breakout year. Veterans who have slipped down the depth chard are also included because they've proven before that they can be "difference makers", which is the type of intangible you can't see in analytics.

Also, there are many excellent linemen who didn't make the list for simplicity so always check the injury report for starting linemen out for a game because it'll definitely be reflected in the final score. The notes for each team were provided by Octavio and there are very few predictions because he doesn't believe in them – the season is fluid.

If you don't think there are enough key players on the list or that there were errors in inclusions, just copy and paste them into your own list and make adjustments. Also, injured players and holdouts were also included as their return will obviously have an impact.

Although these cheat sheets were designed specifically with Survivor Pools in mind, they are obviously valuable resources to quickly call upon throughout the year if looking to wager on some upsets.

Good luck this year!