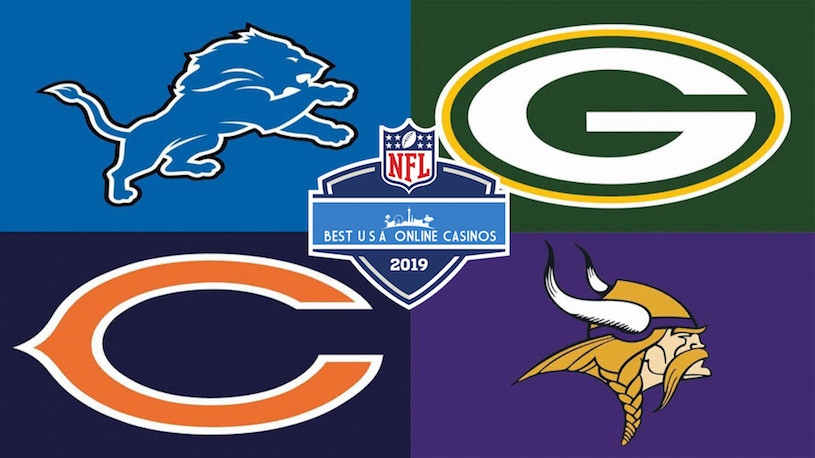 It looks like the NFC North is up for grabs this year with The Pack seeing a bit of turmoil lately in an otherwise stable franchise and the Vikings and Bears could each finish with double digits in the win column. David Strauss at MyBookie also thinks it'll be tight as he has season win totals at 9.5 for both Green Bay and Chicago, 9 for Minnesota, and this division will probably be decided in Week 17.
None of the 4 teams should explode in the standings since they're playing the strong AFC West in 2019, which will probably dish out 2 losses a piece in the process. If the Bears finally beat the Packers in primetime to start the season on Thursday night it will signal a changing of the guard in the division…and possibly trigger a trade demand by Aaron Rodgers in the offseason.
Chicago Bears 2019 Gambling Cheat Sheet
What a difference Khalil Mack makes. The Bears defence is almost back to mid-80s form and they're going to be pounding on opponents all year long. Therefore, the key to success will be how many dangerous targets Trubisky can develop on offense, especially since they look a little weak at the running back position after losing last year's go-to guy, Jordan Howard, to the Eagles.
After consecutively losing two close games to the Dolphins and Patriots in 2018 to sit at 3-3, the Bears rallied to win 5 in a row (NYJ, BUF, DET, MIN, DET) and stunned analysts who had them finishing 3rd in the North. They then lost a heartbreaker to the lowly Giants in overtime and responded with anger beating the Rams, Packers, 49ers, and Vikings to finish at 12-4.
Even though they were a few points away from winning 10 in a row to end the regular season, it'll be interesting to see how they come out of the gate in 2019. Losing the "doink, doink" Wildcard game at home to the Eagles probably stayed with them throughout the summer so there might be a bit of hangover. Of course, Khalil and the Bears defense could win a few games on their own while Trubisky gets back into his groove.
It's probably best to wait a few weeks before taking them in a Survivor Pool – the Denver and Washington matchups look tasty on paper but we don't know what's coming out of Chicago's kitchen yet. That said, a strong showing on Thursday night against the Cheeseheads might be enough of a signal that everything' ok and justify backing them on the road the following two weeks.
2018 Record: 12-4
Home: 7-1
Away: 5-3
Division: 5-1
Conference: 10-2
2018 Stats:
Points For: 421
Points Against: 283
Difference:

+138

End of Season Streak:

Won 4
2019 Futures Odds:
Over / Under Season Wins: 9½

(-2½)

Win NFC North: +160
Win NFC Championship: +725
Win Super Bowl: +1300
Matt Nagy Coach of the Year: +2000
David Montgomery Offensive Rookie of the Year: +1000
Mitchell Trubisky Most Passing Touchdowns: +4000
Mitchell Trubisky O/U Passing Yards: +3750½
Mitchell Trubisky MVP: +1500
Key Players:
QB: Mitchell Trubisky
WR: Allen Robinson
WR: Taylor Gabriel
C: James Daniels
RG: Kyle Long
RT: Bobby Massie
LDE: Akiem Hicks
NT: Eddie Goldman
WLB: Khalil Mack
RILB: Danny Trevathan
LCB: Prince Amukamara
SS: Ha Ha Clinton Dix
RCB: Kyle Fuller
PK: Eddy Freakin' Pineiro
Conclusion:
Good defense wins championships but they need the offense to score a few points in the process. The Bears were 9th in points last year so they'll need to do a little better than that during this campaign. If they're 5-2 or better by Week 9 there will be some great opportunities to back them in November against the Giants and Lions x2.
Detroit Lions 2019 Gambling Cheat Sheet
You can't help but feel a little bit sad for Detroit fans over the last 50 years as there hasn't been much to cheer about. Even the Bills dominated their conference for 4 straight years in the late '80s, and the monkey is off of Cleveland's back thanks to LeBron. The good news is that this team has just enough talent on their roster to be frisky in 2019 and with parody at an all time high in the NFL, they just might sneak into a Wild Card birth if they get tons of breaks along the way.
You're not convinced? Well, remember that to start out the 2018 campaign they lost to the Jets by 31 points then the 49ers by 3, before beating down New England in the dome 26-10. After winning two in a row to claw to 3-3 the wheels fell off, losing 3 in a row, 5 out of 6, and ultimately dropping 7 out of 10 before clearing out their lockers with heads hung low.
Stafford will do everything in his power to stop that from happening again and this might be his breakout year. Although, the Lions finishing with 6 wins or less makes a lot more sense.
2018 Record: 6-10
Home: 3-5
Away: 3-5
Division: 2-4
Conference: 4-8
2018 Stats:
Points For: 324
Points Against: 360
Difference:

-36

End of Season Streak:

Won 1
2019 Futures Odds:
Over / Under Season Wins: 6½

(+½)

Win NFC North: +1300
Win NFC Championship: +4000
Win Super Bowl: +8000
Matt Patricia Coach of the Year: +5000
Jahlani Tavai Defensive Rookie of the Year: +2000
T.J. Hockenson Offensive Rookie of the Year: +1600
Matt Stafford Most Passing Touchdowns:n+2500
Matt Stafford O/U Passing Yards: 4000½
Matt Stafford MVP: +7000
Key Players:
QB: Matthew Stafford
RB: Kerryon Johnson
RB: C.J. Anderson
WR: Marvin Jones Jr.
WR: Danny Amendola
TE: Jesse James
LG: Kenny Wiggins
RT: Rick Wagner
RDE: Trey Flowers
WLB: Devon Kennard
SLB: Christian Jones
SS: Quandre Diggs
PK: Matt Prater
Conclusion:
The longer you look at their roster the more you can talk yourself into them making a bit of noise this season. Matt Stafford really cares about winning so if you're betting against the Lions, make sure you've thought it out fully – they can beat anyone. And don't even think about betting against them in the first 6 games of the season (yes, that includes their matches against the Chargers, Eagles, Chiefs and Packers – they could easily win 2 of those).
Every season a team shockingly goes from worst to first and it could finally be their turn.
Green Bay Packers 2019 Gambling Cheat Sheet
In Week 1 of 2018 Aaron Rodgers got knocked out with an injury against the Bears but still came back into the game to throw 3 touchdown passes in the fourth quarter to steal the victory. It appeared as if it was going to be the same old Pack and the same old NFC North.
However, they went on to tie Minny at home and then decisively lose to Washington before bobbling to a 4-4-1 record. From there three straight losses to SEA, MIN, and ARI sealed their fate and an angry Rodgers vented his frustrations on the Jets in Week 16 by throwing for 442 yards.
There have been numerous reports about disagreements between Rodgers and rookie head coach Matt LaFleur throughout training camp so it's not clear how focused and united this team will be coming out of the gate. Going up against the Bears, Vikings, Broncos, Eagles and Cowboys to start the season should tell gamblers all we need to know about the strength of the 2019 Packers. Sit back and watch and then hammer them against the Raiders in Week 7 if you like what you see.
2018 Record: 6-9-1
Home: 5-2-1
Away: 1-7
Division: 1-4-1
Conference: 3-8-1
2018 Stats:
Points For: 376
Points Against: 400
Difference:

-24

End of Season Streak:

Lost 1
2019 Futures Odds:
Over / Under Season Wins: 9½

(+3½)

Win NFC North: +225
Win NFC Championship: +900
Win Super Bowl: +1800
Matt LaFleur Coach of the Year: +2200
Rashan Gary Defensive Rookie of the Year: +1400
Darnell Savage Jr. Defensive Rookie of the Year: +2500
Aaron Rodgers Most Passing Touchdowns: +650
Aaron Rodgers O/U Passing Yards: 4250½
Aaron Rodgers MVP: +1200
Key Players:
QB: Aaron Rodgers
QB: DeShone Kizer
WR: Davante Adams
WR: Geronimo Allison
TE: Jimmy Graham
C: Corey Linsley
OT: David Bakhtiari
OT: Bryan Bulaga
SS: Adrian Amos
PK: Mason Crosby
Conclusion:
Their 2019 season is all going to come down to whether or not Rodgers can make superstars out of his receiving core and if the defense can keep them in the game long enough for him to develop them. There are a lot of youthful faces on D but it's certainly not the worst squad out there by a mile.
That said, it won't be shocking if we hear Rodgers bringing up the Jordy Nelson trade in interviews around Week 6.
R.E.L.A.X. Cheeseheads: if anyone can pull off a Super Bowl run with this cast it's #12 .
Minnesota Vikings 2019 Gambling Cheat Sheet
From the beginning, things never felt quite right last year for the Vikings. A tie in Green Bay in Week 2 followed by a puzzling beat-down at the hands of the Bills in Buffalo (27-6) confused many. They then woke up to win 3 straight before a misstep in New Orleans and running into better teams of the Bears, Patriots, and Seahawks.
Even after that hot mess in 2018 they're only a hair behind Chicago for odds to win the NFC North. It's clear that this division even perplexes those who are paid to prognosticate. If you're thinking of backing them Week 3 against Oakland, go watch the highlights of that Bills game last year first.
2018 Record: 8-7-1
Home: 5-3
Away: 3-4-1
Division: 3-2-1
Conference: 6-5-1
2018 Stats:
Points For: 360
Points Against: 341
Difference:

+19

End of Season Streak:

Lost 1
2019 Futures Odds:
Over / Under Season Wins: 9

(+1)

Win NFC North: +175
Win NFC Championship: +1000
Win Super Bowl: +2400
Mike Zimmer Coach of the Year: +2800
Irv Smith Jr. Offensive Rookie of the Year: +5000
Kirk Cousins Most Passing Touchdowns: +1800
Kirk Cousins O/U Passing Yards: 4050½
Kirk Cousins MVP: +4000
Key Players:
QB: Kirk Cousins
RB: Dalvin Cook
WR: Adam Thielen
WR: Stefon Diggs
TE: Kyle Rudolph
C: Garrett Bradbury (Rookie)
RG: Josh Kline
DE: Danielle Hunter
LDT: Linval Joseph
MLB: Eric Kendricks
PK: Dan Bailey
Conclusion:
Lots of veterans on defense, a quarterback who's proven he can chuck it when it counts, and lots of targets on offense. Somehow it still feels like a 10-6 season and an early exit from the playoffs. Hopefully Cousins earns a bit of his gargantuan salary in the process. You like that?!