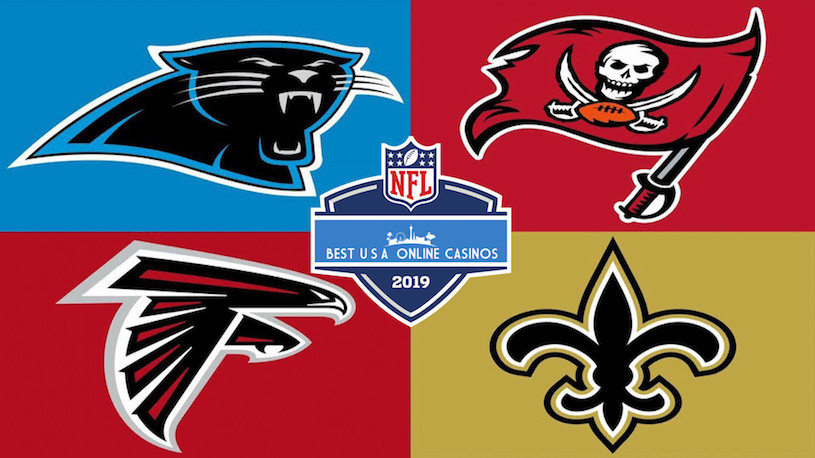 It doesn't feel like things will be much different in the NFC South this year compared to last: frisky teams that surprise us a few times throughout the year but ultimately fall behind the dominant Saints. The only saving grace for those left behind being that New Orleans seems destined to lose in the playoffs in soul-crushing fashion each and every year.
The only squad that looks to be completely out of it in 2019 are the Panthers as they continue their swirl around the toilet bowl of injury and ineptitude. Some are predicting good things out of Tampa now that Bruce Arians is there to keep egos in check and stupid decisions to a minimum. And the Falcons? Same as every year: either 12-4 or 4-12…shake up that magic 8 ball.
All odds come courtesy of the MyBookie Sportsbook who accepts players from every U.S. state and are currently offering a special welcome bonus for 2019 to all of our readers. For anyone interested, a full explanation of this cheat sheet is at the bottom of the page.
Atlanta Falcons 2019 Gambling Cheat Sheet
It honestly doesn't feel like this generation of Falcons will be able to shake off their humiliating implosion that gifted the New England Patriots an undeserved Super Bowl victory a few years ago. Last season they experienced huge streaks of losing 3 in a row (NO, CIN, PIT) then steadied themselves to win 3 (TB, NYG, WAS), before falling down 5 consecutive times against CLE, DAL, NO, BAL, and GB.
On the bright side they went out on a high beating up on other middling teams, spanking ARI, CAR, and TB to go off to the golf course with their heads held high and a 7-9 record in their pocket. Not much has changed on paper in 2019 so this feels like another 8-8 type of affair unless the offense gets back to championship form. Playing the AFC South in 2019 might just give them enough Ws to keep the standings interesting.
2018 Record: 7-9
Home: 4-4
Away: 3-5
Division: 4-2
Conference: 7-5
2018 Stats:
Points For: 414
Points Against: 423
Difference:

-9

End of Season Streak:

Won 3
2019 Futures Odds:
Over / Under Season Wins: 9

(+2)

Win NFC South: +325
Win NFC Championship: +1400
Win Super Bowl: +3000
Dan Quinn Coach of the Year: +2000
Matt Ryan Most Passing Touchdowns: +750
Matt Ryan O/U Passing Yards: 4575½
Matt Ryan MVP: +2600
Key Players:
QB: The Three Matts: Ryan, Schaub & Simms
RB: Devonta Freeman
WR: Julio Jones
WR: Mohamed Sanu
TE: Austin Hooper
LG: James Carpenter
C: Alex Mack
RDE: Vic Beasley Jr.
LCB: Desmond Trufant
PK: Mat Bryant
Conclusion:
If Matt Ryan and Julio Jones can start hooking up regularly in the end zone they just might put a little pep in their step. If they can battle their way in as a Wild Card, they could catch fire and surprise a few people. Those who are bold will want to put a Survivor Pool pick on them sometime during their stretch of playing the Colts, Titans, and Texans in Weeks 3 through 5.
Carolina Panthers 2019 Gambling Cheat Sheet
Here's another NFC South team that got too cocky and handed someone a Super Bowl Victory, but at Peyton Manning's age at the time, he'd take it any way it came. It just happened to be served up on a platter in a 24-10 loss by an unprepared Panthers team.
That was almost half a decade ago so we'll move on, but looking at their last few seasons it's clear that Carolina is suffering from a hangover of epic proportions. Last year they appeared to be back on track, posting a 6-2 record in impressive victories over DAL, CIN, NYG, PHI, BAL, and TB. However, they then went into free fall and lost 7 in a row to PIT, DET, SEA, TB, CLE, NO, and ATL to quietly limp back to their den.
This season isn't starting off much better as they've already been plagued by injuries and haven't made too many big offseason moves. After examining the numbers below, an over/under of 8 season wins might seem a little high.
2018 Record: 7-9
Home: 5-3
Away: 2-6
Division: 2-4
Conference: 5-7
2018 Stats:
Points For: 376
Points Against: 382
Difference:

-6

End of Season Streak:

Won 1
2019 Futures Odds:
Over / Under Season Wins: 8

(+1)

Win NFC South: +425
Win NFC Championship: +1400
Win Super Bowl: +2800
Ron Rivera Coach of the Year: +3300
Brian Burns Defensive Rookie of the Year: +1400
Will Grier Offensive Rookie of the Year: +5000
Cam Newton Most Passing Touchdowns: +6600
Cam Newton MVP: +2500
Key Players:
QB: Cam Newton
QB: Kule Allen
RB: Christian McCaffrey
WR: Chris Hogan
TE: Greg Olsen
C: Matt Paradis
RILB: Luke Kuechly
PK: Joey Slye (Rookie)
Conclusion:
You think the Panthers can win without hot-headed Scotsman, Graham Gano, running into games to boot the pigskin like he was Braveheart on blue meth? Get a grip. The only thing saving this season is Cam Newton and he's already injured his left foot in preseason. Prognosis: negative. Take the Bucs against them in Week 2 if you really want to impress your friends.
New Orleans Saints 2019 Gambling Cheat Sheet
Coming off of a dominant 2018 campaign that saw them lose Week 1 to constant divisional annoyance Tampa Bay (led by Ryan Fitzmagic), they then rattled off 10 wins in a row against CLE, ATL, NYG, WAS, BAL, MIN, LAR, CIN, PHI, and ATL. Their powerful squad then rolled into "Big D" and lost by a field goal, but bounced back to win their next 3 before dropping a Week 17 matchup that meant nothing.
However, this "dream season" ended in nightmares as the Saints got absolutely screwed out of a Super Bowl appearance with a blown pass interference call that handed the contest to the Rams. Most experts agree that a few bundles of money were then handed to the "befuddled" referee for his error in the back of a black Cadillac.
All of this was made even worse two weeks later when it was clear that the Patriots were more than "beatable", only winning because the Rams were too nervous and cocky to mount any kind of a fight. This was a golden opportunity for the Saints to bring another trophy down to the Big Easy.
Everyone's coming back for another kick at the can and many across the nation will be cheering for Drew Brees to win one more ring before he hangs it up. The only question is: "How big is the hangover?".
2018 Record: 13-3
Home: 6-2
Away: 7-1
Division: 4-2
Conference: 9-3
2018 Stats:
Points For: 504
Points Against: 353
Difference:

+151

End of Season Streak:

Lost 1
2019 Futures Odds:
Over / Under Season Wins: 10½

(-2½)

Win NFC South: -160
Win NFC Championship: +400
Win Super Bowl: +1000
Sean Payton Coach of the Year: +1400
Drew Brees Most Passing Touchdowns: +1000
Drew Brees O/U Passing Yards: 4300½
Drew Brees MVP: +1200
Key Players:
QB: Drew Brees
QB: Teddy Bridgewater
RB: Alvin Kamara
RB: Latavius Murray
WR: Michael Thomas
WR: Ted Ginn Jr.
WR: Tre'Quan Smith
TE: Jared Cook
C: Erik McCoy (Rookie)
LDE: Cameron Jordan
LCB: Eli Apple
SS: Von Bell
PK: Wil Lutz
P: Thomas Morstead
Conclusion:
This is a classic case of either "hangover" or "chip on the shoulder" and we won't know which it is until after Week 7 in Chicago. This smells like either a 12-4 Super Bowl winning season or an 8-8 disappointment for the Saints, with nothing in between.
Tampa Bay Buccaneers 2019 Gambling Cheat Sheet
It seems like every year we hear, "this is the season Tampa Bay turns the corner," and it seems like every time we've forgotten about them by Halloween. However, until that time they always thrill gamblers by knocking large chunks of Survivor Pool entries out in the first few weeks and 2018 was no exception. They started off beating New Orleans in their Dome and then slapped Philadelphia in Tampa to start 2-0 and make Ryan Fitzmagic a superstar as he threw for 417 and 402 yards.
Fitzy then threw for 411 against the Steelers in a 3 point loss that resulted in skid that saw him and Winston going back and forth between starts. They then cobbled together 3 more wins before losing 4 straight to end the season, rewarding everyone still in their pools who could finally pick against them with confidence.
Now that the Buccaneers have done the unthinkable and traded Fitz to the Dolphins, it's hard to believe that there will be too much magic left in the locker room to draw upon. Although, Bruce Arians has proven before that he can make something out of nothing so keep your eyes open.
2018 Record: 5-11
Home: 4-4
Away: 1-7
Division: 2-4
Conference: 4-8
2018 Stats:
Points For: 396
Points Against: 464
Difference:

-68

End of Season Streak:

Lost 4
2019 Futures Odds:
Over / Under Season Wins: 6½

(+1½)

Win NFC South: +1300
Win NFC Championship: +5000
Win Super Bowl: +10000
Bruce Arians Coach of the Year: +2000
Devin White Defensive Rookie of the Year: +600
Sean Murphy-Bunting Defensive Rookie of the Year: +4000
Jameis Winston Most Passing Touchdowns: +2200
Jameis Winston O/U Passing Yards: 4435½
Jameis Winston MVP: +8000
Key Players:
QB: Jameis Winston
QB: Blaine Gabbert
RB: Peyton Barber
WR: Mike Evans
WR: Chris Godwin
C: Ryan Jensen
RT: Demar Dotson
LDE: Ndamukong Suh
WLB: Jason Pierre-Paul
PK: Cairo Santos
PK: Matt Gay (Rookie)
Conclusion:
The most exciting thing about watching the Bucs this year will be seeing who's kicking field goals for them in Week 8. As always, they will jump up and surprise a few teams on their way to a losing record so bet against them with caution. Week 9 looks like a trap game for the Seahawks – stay away.
Explanation and details:

Our simple gambling cheat sheet for NFL 2019 gives busy bettors the foundational information they need, while also bringing veterans back to basics to provide them with clarity. People always make the mistake of looking at too many factors when trying to figure out who will win a game, and sometimes you just have to take a step back and look at the high level info.

The information below is what friend of the site Octavio Von Oromocto looks at each week before making Survivor Pool picks or laying down on underdogs (he's won 6 pools in 9 years). Feel free to dig deeper into the numbers if you want, but the statistics on this page should be more than enough to make an informed decision. If you look at the futures odds on individuals and projected number of regular season wins, a picture begins to form of who that team is as a whole.

If more than one quarterback is listed that means Octavio smells either controversies or missed games ahead. The key players listed are those who have already proven themselves, or ones expected to have a breakout year. Veterans who have slipped down the depth chard are also included because they've proven before that they can be "difference makers", which is the type of intangible you can't see in analytics.

Also, there are many excellent linemen who didn't make the list for simplicity so always check the injury report for starting linemen out for a game because it'll definitely be reflected in the final score. The notes for each team were provided by Octavio and there are very few predictions because he doesn't believe in them – the season is fluid.

If you don't think there are enough key players on the list or that there were errors in inclusions, just copy and paste them into your own list and make adjustments. Also, injured players and holdouts were also included as their return will obviously have an impact.

Although these cheat sheets were designed specifically with Survivor Pools in mind, they are obviously valuable resources to quickly call upon throughout the year if looking to wager on some upsets.

Good luck this year!