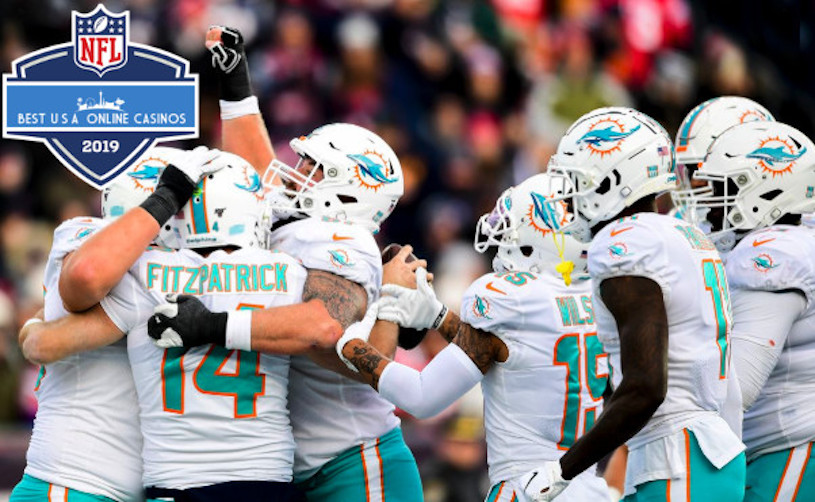 It looks like the Gambling Gods held back a few stunning upsets for the final Sunday of NFL 2019 and many people's jaws are still wide open in amazement. The ultimate beauty of online sports betting is realized when a sneaky underdog creeps up and bites a favorite in the butt and also gets you paid in the process. It's simply one of life's little pleasures.
Let's get right to the biggest upset of Week 17, with Miami dismissing the 16 points "experts" had given them at home against New England, winning the game by a final score of 27-24. The always-magical Ryan Fitzpatrick drove the Dolphins down the field and threw a 5 yard pass to Mike Gesicki with 24 seconds left in the fourth quarter to rob the Patriots of a 1st round bye and home field advantage. This is absolutely going to make the AFC Playoffs a lot more interesting this January.
Staying on the theme of "moral victories", Cincinnati beat Cleveland 33-23 and notched their second "W" of the season, in spite of being 2 point dogs to start the afternoon. The beatdown was the final exclamation point on another miserable Browns campaign beginning in September with hopes of reaching the Super Bowl. Of course, this was just hysteria from a championship-starved fanbase but even professional handicappers thought Baker Mayfield and company would end up with more than 6 wins. No wonder Freddie Kitchens got the boot earlier in the week.
Another useless success was notched by the Jaguars in Jacksonville, beating Indianapolis 38-20, blowing up the spread of +5 MyBookie oddsmakers gave them going in. It looks like the Jags are back to their mediocre ways for now – if they had any fans they'd probably be sad this week. Hopefully, Nick Foles stays healthy next year and we see what he can actually do when not in an Eagles' uniform.
Finally, an honorable mention goes out to Detroit who almost beat Green Bay but ultimately lost 20-23 on a last second field goal by Mason Crosby. It's not fair to give the Lions too much grief since they were without stud quarterback Matthew Stafford for most of the season, so expect him to come out with a chip on his shoulder for 2020.
Well, that's it for another wild and whacky NFL season and hopefully the playoffs are just as entertaining (and profitable).
On to Wild Card Weekend…