If you're reading this article now, chances are you picked the Los Angeles Chargers at home against the Broncos last week in your Survivor Pool…or perhaps the Rams at home to beat the Buccaneers the week before. Don't stress it – upsets happen all the time in the NFL and people have been getting kicked out of pools steadily since Week 1 of this year. The good news is now there's an opportunity to hop right back into the action and take another shot at outlasting the competition.
This latest contest comes courtesy of the MyBookie Sportsbook & Casino for U.S. players who have decided to open up a second Survivor Pool to their members and are even guaranteeing the prize money. This means that no matter how many people join the pool, the winner(s) will definitely receive a huge cash windfall.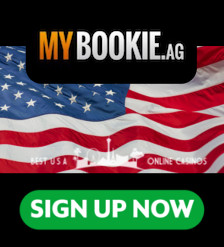 The pool is called the MyBookie $50k Survivor Pool and it's only open until the end of Week 6 of the 2019 NFL season so you'll have to act fast if you want to get in on it. The rules are standard and will be immediately recognizable to all: pick one team each week to win and if they do, you advance, if they lose, you're out. Teams can only be picked once and whoever is left standing at the end scoops up the loot, and if multiple people make it to Week 17 or all lose together, the $50,000 is split up evenly between them.
There are only two elements of the promotion needing clarification, if you pick a team and they tie it's considered a loss, and if a game is postponed for any reason and not played before the following Wednesday both teams are graded as losers. Both of these rules are fair and commonly found in most Survivor Pools so no one should be shocked or offended by them.
The best thing about this contest is that it's absolutely free to enter and it won't cost a dime. The only stipulation is that you must have made at least one deposit with them beforehand – and yes, you can go sign up at MyBookie right now and fund your account and still get in the pool. The cutoff time is obviously right before the Monday Night Football game and there are no auto-picks if a team isn't selected by then, so get make sure to get everything sorted out before kickoff.
Good luck with this Survivor Pool and remember: putting your "survivor life" on Philip Rivers and the Chargers is always dangerous…