Love is in the air now that February has arrived and tons of online casino promotions focused on Valentine's Day will be launched soon sure to feature hearts, chocolates, and that chubby little diaper-wearing Cupid. That said, since more than 50% of all marriages end in divorce, this fun contest may be just what Dr. Love ordered for a few readers out there.
First to the (pity) party is an ancient operator who wants to make sure members are devoted and willing to commit to a long relationship with them… or at least stick around until St. Patrick's Day. It's called the $150,000 Love is All Around promo and it'll be showering people with beautiful bundles of cash if they're able to exhibit enough dedication to end up on the weekly leaderboard.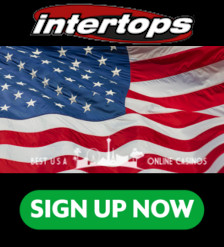 Repeat visitors to this website will probably already know after reading our honest assessment of Intertops for U.S. players where this competition is being hosted because these types of attractions are commonplace there. They constantly create multi-week tournaments designed to attract new registrations and those curious about getting in on group action, usually focused on traditional events of the month in question.
This contest aligns perfectly with previous ones as it's necessary to play casino games for real money throughout the duration, earning 1 point for every $100 wagered. Then the Top 300 accounts each week will receive bonuses up to $500 as they divvy up the $30,000 in prizes every Monday, ensuring a steady stream of chocolate until summer arrives. An added perk is whomever finishes in the final Top 20 overall could win $1,000 in cash to pamper themselves with anything their significant other failed to provide on Valentine's Day.
Details are simple since any product will earn points whether it's blackjack, roulette, video poker, or slots – it's totally up to you and everything is on the table. The only qualification is it's necessary to deposit $25 or more each week to be eligible for weekly Thursday draws issuing $20 to $150 free to random participants, just for showing up.
Things have already kicked off but this "Love Connection" is throbbing all the way up until March 9, 2020 so there's still plenty of time to get in on the festivities. Just head on over to the Intertops Casino Promotions page and accept their rose if you like what you see.