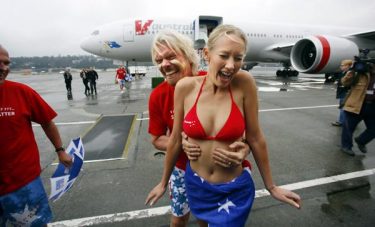 The founder of Virgin Records, Richard Branson, is no stranger to taking risks. He has never been afraid of putting his money on a long shot in the hopes of the bet paying off big, and the U.S. online casino market might be his biggest wager to date.
The Virgin Gaming Group announced in 2010 that they had established a strategic partnership with the Tropicana Casino in hopes of launching a series of online casinos in the U.S.A. The plan at the time was to concentrate on the more relaxed legislation in states like Nevada, New Jersey and California, and slowly open their suite of casino games to all of the 50 states. However there has been a huge political backlash against online casinos by the Republican Party and one of their number one financial contributors, Sheldon Adelson.
Gambling industry heavy-weight Gamesys supplies the gaming license to both Virgin Games and Virgin Casino, and they are ready to go all-in on the U.S. market. Gamesys have recently sold a few of their online casino brands to competing companies for a whopping £425 million, and Virgin CEO Simon Burridge has hinted that this windfall might be invested in a joint venture.
As the Virgin online casino has not been able to get a strong foothold in the United Kingdom, this opportunity might be Richard Branson's last shot at online casino glory.