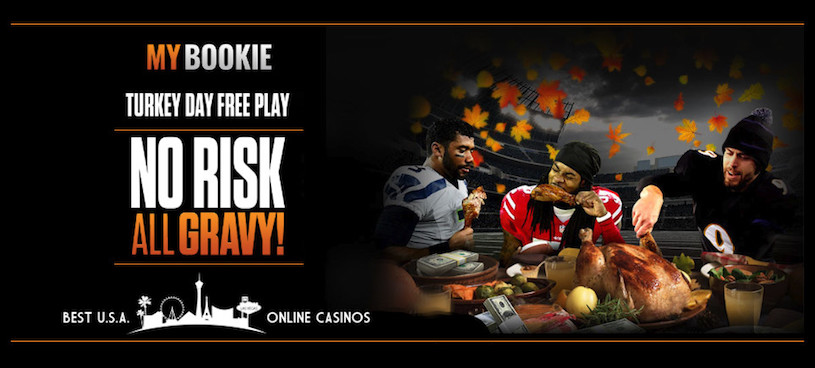 With three amazing divisional games on the slate this Thursday for Thanksgiving, gamblers across America are searching for where to bet NFL online to get action down. Let's face it, we're all sick of our families by 2pm every year and it's always professional football that saves the day since everyone can sit down in silence and watch. Happy Holidays!
All the best and most-trusted USA online casinos step up during this time of the year and 2018 is no different. Two main offers will fatten bankrolls before kickoff this Thursday, but where to go will depend solely on action desired.
Anyone wanting to get down on Chicago @ Detroit only have one option and loyal readers will already know where. Many read our exclusive review of MyBookie and now understand why they're industry leaders, continuously serving up great promos, this week bringing a doozie.
The "MB" bookmaking team is headed up by gambling industry maverick, David Strauss, well-known for making brash statements, as well as posting some of the craziest lines around. Well, this Thanksgiving he's not cooking up turkey, he's unveiling a free bet for Bears/Lions paying members even if they lose. Simply place a real money wager on either team ATS (currently Bears -3) and then kick back and relax. Why? Well, winners get paid while losers get risk amounts returned so it's literally impossible not to bump balances.
Which brings us to the only other site to get down on Bears/Lions, meticulously-scrutinized BetOnline Sportsbook, as all new registrations receive a 50% welcome bonus up to $1,000. They're a top recommended book and those backing Chicago tomorrow (without Mitch Trubisky) only have to cover a current line of -2½.
Both destinations agree the spread for Dallas/Washington should be Cowboys -7 but they differ on the third tilt for "Turkey Day". Currently BetOnline is giving Atlanta 13 going into New Orleans, however, an extra half point is found at MyBookie. So if staking the underdog Falcons, place action there and get 13½ since the .5 might come in handy.
Anyone ready to jump on the insane $250 NFL Free Bet David Strauss is serving up out of his demented kitchen should immediately sign up an account at MyBookie Sportsbook and place a wager on Bears/Lions before he sobers up. Surely, this offer won't be available all week.
***All lines correct as of November 21, 2018.***
The Chicago Bears @ Detroit Lions game is at 12:30 EST on CBS. 
The Washington Redskins @ Dallas Cowboys game is at 4:30pm EST on FOX.
The Atlanta Falcons @ New Orleans Saints game is at 8:20pm EST on NBC.