There's only a few weeks left until the best sports season of the year starts thanks to NFL and NCAA football and betting websites are getting their house in order before the insanity begins. This includes coming up with promotions, exclusive offers, and ensuing a long list of deposit methods so players can easily get bankrolls in before kickoff.
You have to wonder if Youwager got jealous earlier this month when they read our guide to real money casinos accepting AmEx in 2019 and felt left out of the party while advantages of joining each destination were highlighted. Only a short list of places still take the fancy credit card so a lot of digging is required every September to find out who still lists it.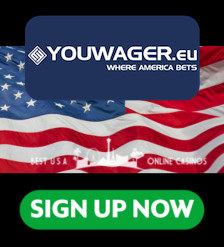 Thankfully for many, Youwager announced this week it added American Express as a banking option for the 2019 NFL Season and it can be used to move in reasonably-sized amounts. This card does have higher failure rates than VISA or MasterCard but purchases occasionally go through if lucky. If it fails, better know how to gamble with Ethereum or another cryptocurrency because success rates with those is always 100% and they're honestly the only way to go.
Many people haven't heard of these guys yet and that's totally understandable since they spend zero dollars on United States marketing are more of a "word of mouth" establishment. So anyone wanting an honest review of Youwager can read our findings and decide for themselves if a visit is in order. They have every Las Vegas product imaginable, including a robust poker room with lots of cash tables and tournaments, and reader feedback has been positive thus far.
They of course allow more U.S. sportsbook deposit methods than just American Express, with Western Union orders still accepted with gusto. Going into football season they're offering a 50% welcome bonus to new customers with a low rollover of 10x, so a little extra is given for trying them out.
For those who are curious, go visit YW now and click around for a bit. Then if impressed, sign up for an account with a valid email address and wait for special offers to start hitting the inbox. These guys are hungry for business so there's no telling what kind of deals they'll be sending out for the remainder of the year.