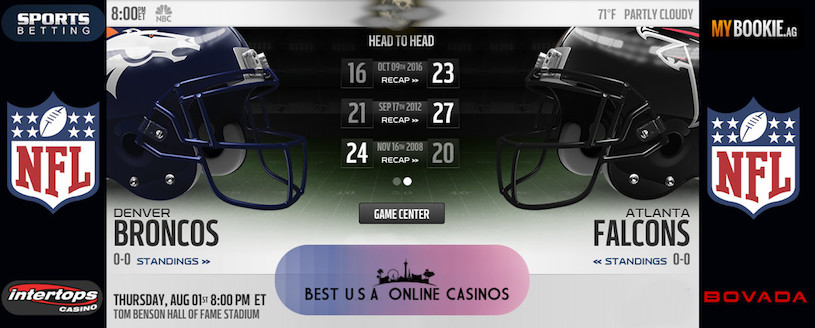 Today is August 1st and that means that NFL football is finally back! It seems like forever since the Super Bowl and most gamblers across America have been filling the void with betting on everything from PGA golf to MMA fights to political outcomes… "pigskin withdrawal" can be very hard on us all.
So tonight the 2019 NFL preseason kicks off with the Denver Broncos "battling" the Atlanta Falcons in the Tom Benson Hall of Fame Game in Canton, Ohio, causing many people to put down their beers, rub their eyes, and pull out their phones to get some money down on the game. Let's be honest, when you're watching 3rd and 4th stringers fumbling the ball into the sidelines it's all much more interesting if you've booked some action.
It's still too early to be declaring who are the best U.S. online sportsbooks for NFL betting because they haven't released their 2019 football season offers yet. As we all know there will be lots of free bonus cash floating around in the beginning of September so we have to wait to see what each of their promotions will be.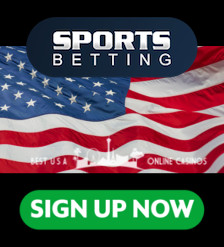 For now let's keep things simple and tell you where the best odds are for the HOF game tonight, and as per usual, it pays to do a bit of line shopping. So if you want to bet on the Denver Broncos spread you should check out the MyBookie Sportsbook because they currently have a number of -2.5, which is half a point less than everyone else out there at the moment. However, their moneyline of -140 seems to be the consensus so you can get that at pretty much any site you visit.
If you want to get down on the underdog Falcons you could go to Bovada and get them at +3 instead of +2.5, however, SportsBetting.ag will give you a bigger bonus so you might as well go there and place it. These guys aren't well known (yet) but they're gaining some traction from USA players and seem to be ramping things up for this season.
Finally, if you want the Under you should go wager at Bovada because they're giving you a half point better than their competitors with a number of 35, which could obviously be very important. That said, it's the first game of the year and nobody knows what the heck is going to happen – especially since nobody knows who's going to be playing most of the game.
Good luck tonight and check back with us soon as we'll be breaking down everything you need to know about online sports betting in the United States for the 2019 gambling season. It's time for kickoff…