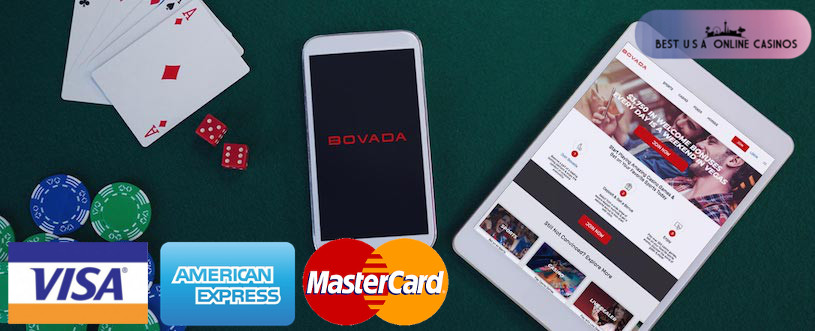 In order to start gambling for real money at Bovada, the first thing to do after signing up is to fund the account via an approved method. Many individuals prefer credit cards as they're familiar, trustworthy, and most importantly, easy. In fact, the sole reason plastic is still accepted at U.S. betting sites is because of the sheer volume of people who are determined to use them, shunning superior options like cryptocurrency in the process.

Unfortunately, Diner's Club is not accepted here, nor is it taken at any other reputable website. So after choosing either Visa, MasterCard, or American Express, ensure that it's eligible to make international purchases since Bovada is an offshore sportsbook not located within United States jurisdiction. If it says "domestic use only", put on a jacket and go to Walmart to buy a gift card or learn how to bet with Bitcoin if you don't want to leave the house.
Once registered with them and holding plastic in hand, follow these easy steps to deposit with a credit card:
Click or tap on the profile button in the upper righthand corner of any page. 

A new page loads, click the big red rectangular "Deposit" button.

Next select "Card" for method and then brand (VISA, MC, or AmEX).
Another new screen will load and if it's the first time being used, it's necessary to enter the number, expiration date, security code (CCV), and lastly "Add Card". This only has to be done once because the information is saved in their secure backend system to avoid the hassle of reentering details.
Then the next time the account is funded everything previously used is on file, so simply choose "List Cards" and past ones will be displayed. If more than one has been saved, simply pick whichever is to be used at that moment.
Now enter the amount to transfer from "Quick Select" or manually punch in a desired sum in the field below. Further down the page there's an option to "Choose Your Bonus" to take advantage of something extra to play with. Anyone craving extra free money at Bovada can sign up through us and receive all kinds of great perks and extras (as well as 100% player protection), just remember the offers require rollover to be met before withdrawing them in payout. Once incentives have been decided, click or tap the big, red "Deposit" button at the very bottom of the page.
It's important to note that Visas, MasterCards, and American Expresses all incur a minimum fee of 5.9% of the total amount, on top of any charges banks and companies levy. This is due to these types of purchases being considered as "cash advances", even though they're described on statements as physical items or services bought from somewhere.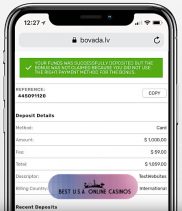 If the deposit is successful a large green banner materializes with an updated balance in the upper righthand corner next to the profile icon (reflecting deducted fees). Below the message is a reference number, along with additional details, and the descriptor for the transaction which is the exact name that will appear on your monthly statement. This is done in order to protect privacy so ensure to note it for later – if it simply stated "Bovada" your business would be known by all.
Other points to keep in mind are:
The maximum number of daily transfers for each is 10.
The maximum amounts vary depending on an individual's history.
If there have been past financial issues, including charge backs, restrictions will be incurred.

Credit cards are not guaranteed to work as some banks proactively block them.
The entire process usually takes less than a couple of minutes and funds are immediately available for wagering in the casino, racebook, poker room, bingo hall, or on any other product provided. Although, customer service could ask for verification at any time, so those searching for a reliable method should use Bitcoin as it has a 100% success rate and is requirement-free.
For anyone wanting a visual tutorial, here's a quick video showing each of the above steps on how to deposit with credit cards at Bovada on a phone.