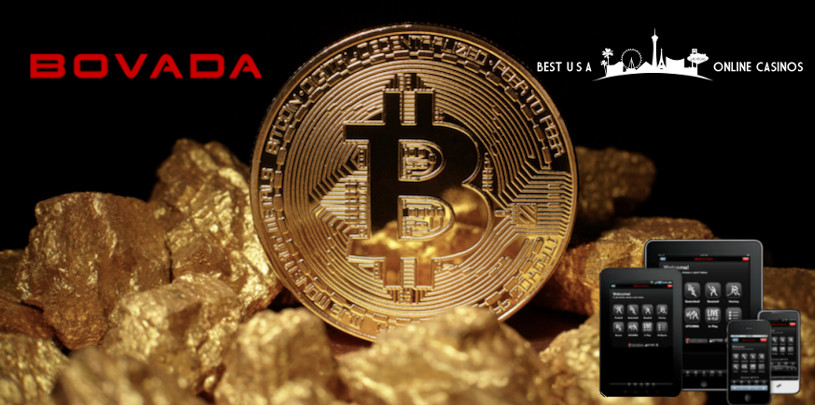 One of the best banking options in existence today is undoubtedly the super cryptocurrency, Bitcoin, seeming almost tailor-made for offshore activities. Not only is it fast with low fees, it's 100% guaranteed to be successful, unlike credit cards such as VISA, MasterCard, or American Express. This is why every reputable betting website now offers it, usually extending larger bonuses for utilizing it.
Prior to starting, be sure to signup for a Bovada account to follow along as we go. Remember, this destination is only for those living in the United States and anyone not located there will automatically be redirected to an appropriate Bodog brand who welcomes them. Upon completion, come back to this page or leave it up in another tab for quick consultation.
When gambling with Bitcoin at Bovada, the steps are straightforward as long as instructions are strictly adhered to. First choose which coin to use, options being either a casino deposit with Bitcoin Cash or the original version. Both have similar strengths, although fees for BCH are slightly lower, evened out by the fact transactions take slightly longer to finalize than BTC.

Once a coin is specified and personal crypto wallet is funded, transfers can be initiated to anywhere in the world. Click or tap the profile button in the upper right hand corner of any page and after the new screen loads, hit the big, red rectangular Deposit button, then select Cryptocurrency as a method. When the cashier opens pick either BTC or BCH, as currently Litecoin, Dash, and Ethereum aren't accepted.
A new page generates a unique Bitcoin address as a QR code similar to images below. It's only necessary to enter the actual amount to send as addresses simply receive whatever sums are chosen. Pay close attention because the next step is going to depend on whether a mobile phone or tablet, or traditional computer is used.
If on mobile, scan the QR code with the wallet app by clicking Launch Bitcoin Wallet below the image. Not all brands of phone work exactly the same, so if unsure how to do this, go into settings and search for QR. Codes are good for approximately 15 minutes so there's a short period of time in which to bring up another window. If issues arise, consult the Help Section immediately to troubleshoot or contact customer service.
However, if executing transactions on a desktop computer or laptop just open the wallet in a new tab using the same launch button as above. This is the only inconsistent step and the remaining instructions are identical for all devices and browsers.
Those craving bankroll boosts before completing the undertaking should click Choose Your Bonus to see what's being offered on that particular day. Once an incentive has been selected or declined, tap the big, red Deposit button at the page's bottom to display the new balance, which is immediately available for play in sportsbook, casino, racebook, or poker room. It's important to note that when finished it's automatically converted into USD so BTC price fluctuations aren't a concern.
Strengths of this method are guaranteed success, minuscule fees, and it's absolutely anonymous so no one other than senders and receivers know it's occurred. In addition, withdrawals can be swiftly returned back to wallets without delay, unlike players originally using credit cards or e-Check to send funds, who could be waiting more than a month to get checks in mailboxes.
For anyone wanting visual aides of this entire process, the following brief video explains each step above detailing how to deposit with Bitcoin at Bovada on a phone. If on a laptop, don't forget the one difference documented above.