In The New Normal of crippling global pandemics and self-isolation, anything "virtual" has risen to dizzying heights of popularity as people are forced to stay home and find fresh digital entertainment. Later today, this practice is being pushed even further with The Kentucky Derby: Triple Crown Showdown based on the 2015 running, with a twist. Results of the computerized matchup will be determined by historical data and intricate algorithms, combining to mathematically calculate probabilities and which jockey and horse combination trots into The Winner's Circle.
Since The Derby was rescheduled for September at Churchill Downs, obviously the best sites offering track odds have listed the event, catering to those thirsty for thoroughbreds. These places are certainly worth looking into because they often extend reduced-juice numbers, providing better value than if staking action in person.
In fact, one such destination is awarding a free $5 wager for the Arkansas Derby to clients risking $20 or more on Digital Derby today, with MyBookie giving members more bang for buck. This is in addition to a current 50% Sign-Up Match Bonus claimable by anyone joining, regardless of state of residence or jurisdiction.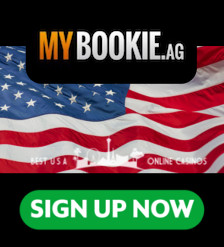 Many individuals have questions regarding how MyBookie is legal in the United States but it's really quite simple as they're based in Curacao and follow World Trade Organization rulings. This means they're able to offer services worldwide, winning over hundreds of thousands of clients in only a few short years. No wonder as they boast a full Las Vegas casino, massive sportsbook, and a steady stream of fun promotions for everything, including major racing events such as The Belmont Stakes, Preakness, and Breeders' Cup.
For the main competition today at 5:45pm MB has Secretariat (-150) as favorite to win, with Count Fleet (+400), Citation (+600), Seattle Slew (+800), and American Pharoah (+800) bringing up the rear. Those seeking a larger payday can choose from War Admiral (+1000), Affirmed (+1500), Gallant Fox (+2000), and Whirlaway (+2000), with Omaha (+3500) being the longest shot available. This list of iconic horses is truly astounding and the technology behind making this dream come true might set the new standard for American virtual racing.
Anyone wanting to cheer a little louder for a particular nag this evening should bet and get fast payouts at MyBookie Racebook for this once in a lifetime contest. Coverage begins at 3pm ET this afternoon on NBC, with special footage and historical features airing throughout the day.