The big day is finally here so let's go over some last minute odds for betting on Super Bowl LIII in order to find best value. Many destinations are taking action today but it's inevitably smart to do a bit of line shopping first to secure largest-possible profits if successful.
Don't worry, all research has been completed and a complete breakdown of options like anthem length, halftime show, and color of Gatorade to be dumped on the winning coach is documented in this Ultimate Gambling Guide to Super Bowl 53 and where to go for each. Numbers vary greatly this season and consequently, extra investigation was mandatory.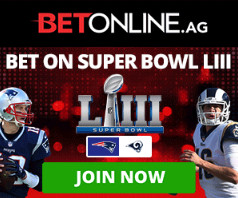 First off, those staking the Patriots to cover the spread must go to either the impeccably-constructed and professionally-managed MyBookie offshore betting website or BetOnline for -2½, the most attractive number found for Tom Brady and New England this afternoon. Giving a half point is always a big deal as it can literally mean the difference between a loss, push, or win. However, if on Los Angeles, Pat Morrow at Bovada hung Rams +3, obviously making his shop more attractive for Goff-believers.
Those backing New England outright on the moneyline should again get down at BOL to grab slight value at -115 instead of -150. Alternatively, Morrow guaranteed a few looks with Rams +120, the highest payout available for the young team.
Half points come into play again with Totals since a few different numbers are presently floating around. David Strauss and MB have 56 to tempt Over supporters, Dave Mason and the highly-skilled NFL traders at BetOnline also posting the same. However, Morrow somewhat leaves his comfort zone with a juicy 56½, surely attracting loads of Under action. He's known for consistently posting underdog-friendly odds, ensuring adventurous folk feast on a bit more meat whenever victorious.
Well that's it for another year – go make final picks and then sit back and enjoy what's sure to be an amazing Super Bowl matchup for the ages.