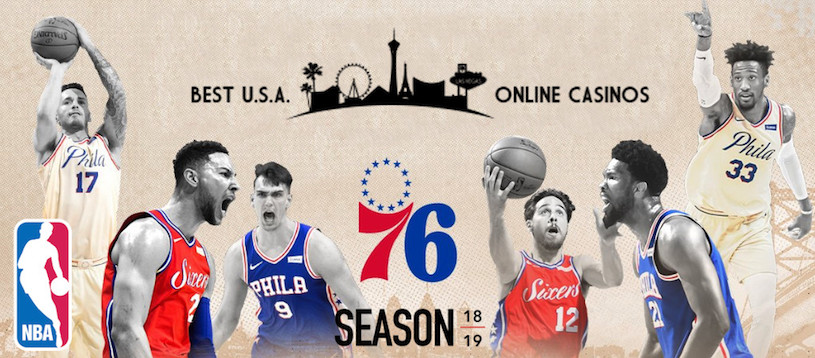 The franchise claims that those who "trust the process" shall be rewarded, but the fans in Philly are getting a little impatient and rightfully so. They sat through 5 straight seasons of futility, only winning a handful of games as they stockpiled draft picks and annoyed the city who have supported them through thick and thin. This has been the extent of the sad life of Sixers fans recently.
Now all of those draft picks and losing seasons are starting to pay off as the Philadelphia 76ers finally made the playoffs again last year, easily beating the Heat 4 games to 1 in the 1st round but then losing to the Celtics by the same margin. Their 2017-18 season didn't end how fans wanted it to but something felt different last spring: the Sixers were back.
Are they as strong as the Celtics, Warriors, and other elite teams? Of course not. However, they look ready to make the jump soon and become the threat to win it all like "The Process" had prophesied would happen. Philly would love to win the 2019 NBA Championship and they finally have the players to make it a reality. Maybe.
Fans looking to get action on the 76ers in 2018-19 will not only enjoy meaty odds on their team as they fly under the radar, they'll also be eligible to receive some great bonuses at U.S.A. online sportsbooks if they're signing up for a new account with them. And we all know that there's nothing wrong with getting a bigger bankroll to use throughout the NBA season, ideally to bet on Sixers futures wagers since a couple of these are going to be long shots to win.
Where to Bet on the Philadelphia 76ers
Those who are brave enough to back their team with cash can find a few different places that are offering decent odds on Philadelphia to win the NBA Championship in 2019. Pretty much every book currently has them as the 5th or 6th best favorite so all of the odds are close, but we've done our research and there are definitely some specific websites that you'll want to go to and get your money down.
Let's start with the two worst places to bet on Philly this year, which are also the two worst places to bet any NBA futures since virtually all of their odds pay out much lower than their competitors. First off is the BetDSI Sportsbook who has them listed at +1500 to win it all, followed closely by Intertops who has an even worse line of +1400. We like both of these places for their casino games and other gambling products, but stay away from them if you want to bet on the NBA and win big if you're correct.
The lines get better at the MyBookie Sportsbook & Casino who currently have the 76ers listed at +1800, but they're known for not giving the best odds for teams from large cities like New York, Boston, and Los Angeles so be careful Sixer fans. Simply stated, they feel like the action is coming in on those teams anyway so there's no need to post attractive lines to get action – sometimes you just have to go line shop to find the best value.
The odds for Philly to win the 2019 NBA Championship get even better at BetOnline who currently have them at +2000 to be victorious this coming June. They're also offering a line of +475 for the 76ers to win the Eastern Conference, trailing the Boston Celtics at +125 and the Toronto Raptors at +200.
However, the best U.S.A. sportsbook for Philadelphia fans to bet at for the 2018-19 season is Bovada because they're offering huge payouts if the Sixers surprise people and finish better than most experts think they will. They currently have the 76ers paying a huge +2200 to finish the season as the 2019 Champions, which are the biggest odds you'll find out there. They even pay the most for them to win the 2019 Eastern Conference at +550, so it's clear where you'll want to go.
Bet on Joel Embiid to Win the 2018-19 MVP Award
Many gamblers in Philly will want to throw down a few extra dollars to bet on Joel Embiid to win the 2018-19 MVP Award, which is actually a pretty decent wager this year. You'd better hurry though: if the Sixers get off to a hot start the payouts will drop quickly as the odds of Embiid winning it will increase. He's currently the #8 favorite to win the award at BetDSI and is paying +1400 to receive the coveted Maurice Podoloff Trophy in 2019.
More-daring gamblers will want to look at Ben Simmons to win MVP as he's now sitting at +3000 there, which is only a few slots behind Embiid. Sixer fans can even drop a huge long shot bet on Zhaire Smith to win the 2018-19 NBA Rookie of the Year as he's currently in second-to-last place with odds of +9000 to receive the Edie Gottlieb Trophy.
No matter which Philadelphia 76ers wagers you want to get in on during the 2018-19 pro basketball season, make sure you open an account at the Bovada Casino that's funded and ready to go at the drop of a hat. If their bookmakers are going to be posting the best NBA odds all year, you'll want to be ready to get in on the action to try to cash in.