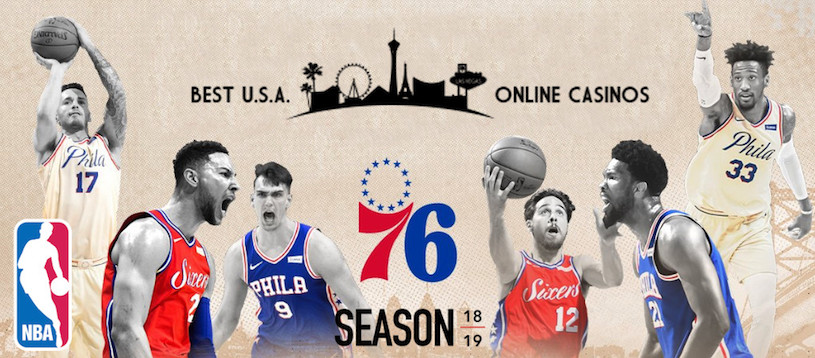 The franchise claims those who trust the process shall be rewarded, but agitated fans are getting impatient and rightfully so. They sat through 5 straight campaigns of futility, winning a handful of games as draft picks were stockpiled, annoying those supporting them through thick and thin. This has been the extent of sad lives of Sixers devotees recently.
Now all those draft picks and losses are starting to bear fruit as Philadelphia made the playoffs last year, easily beating Miami in 5 in Round 1, then bowing out to Boston by the same margin. Their 2017-18 season didn't end as many had hoped but something felt different last spring: the franchise was back.
Are they as strong as the Celtics, Warriors, and other elite teams? Of course not. However, they look ready to soon become a threat to win it all, just like The Process prophesied. They would love to snag the 2019 NBA Championship and finally have players to make it a reality. Maybe.
Anyone betting on the 76ers in 2018-19 will not only enjoy meaty odds as they fly under the radar, great bonuses at top USA online sportsbooks are also claimable if registering new profiles. Professionals know a key element to this pastime is obtaining bigger bankrolls, ideally to throw down on futures, since a couple are always massive long shots.
Where to Bet on Philadelphia 76ers
Those brave enough to back Philadelphia can find a few decent lines, as pretty much everyone currently has them as 5th or 6th favorite. Consequently, after conducting research, specific destinations were identified as offering value.
Let's start with worst sites to stake a July parade happening in the Cheesesteak Capital of America, terrible for any NBA futures as payouts are drastically lower than competitors, BetDSI (+1500) followed closely by Intertops (+1400). The latter is usually quite good, although stay away from the former if wishing to reap rewards for correct prognostications.
Things improve at high-energy MyBookie listing +1800, nevertheless known for reduced numbers on teams from large cities like New York, Boston, and Los Angeles, so be careful. Simply stated, they feel action is coming in from those regions regardless so there's no need to hang anything attractive, dictating residents must constantly shop for advantages.
Odds are even better at BetOnline (+2000), also extending +475 for an Eastern Conference title, trailing Boston (+125) and Toronto (+200). This will be difficult but if reaching that far, a legendary roll might ensue.
Additionally, Bovada presents huge financial gains of +2000 if experts end up surprised, the largest number found. Furthermore, they posted the highest amount for battling through The East at +550, so clearly lay down here if interested.
Bet on Joel Embiid to Win 2018-19 MVP Award
Many want to throw down a few extra dollars on Joel Embiid to win the 2018-19 NBA MVP Award, which actually has a fairly decent chance of happening. Hurry though, because if the Sixers start off hot, payouts will drop quickly as probability of it happening increases; he's 8th favorite at continuously-disappointing BetDSI (+1400) to receive the coveted Maurice Podoloff Trophy.
Daring punters will consider Ben Simmons to take MVP as he's now +3000, a few spots behind Embiid. It's even possible to back gigantic underdog Zhaire Smith taking 2018-19 NBA Rookie of the Year, in second-to-last place at +9000 to pocket the Edie Gottlieb Trophy and accompanying accolades.
No matter which Philadelphia 76ers wagers are desired during the season, make sure to know how to open a Bovada account and deposit with Bitcoin or similar banking tool since they consistently boast excellent value. If bookmakers are going to be bestowing lucrative basketball odds all year, it's wise to be locked, loaded, and ready.