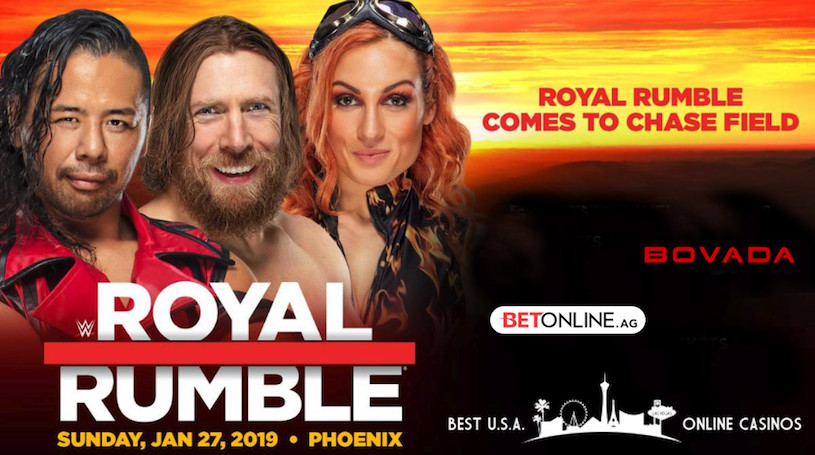 As we say constantly around here, there's very little happening in the world today you can't put money on. Everything is available whether it's betting on celebrity deaths, U.S. politics, or even who the next Pope will be – if it's remotely interesting, odds are posted for it.
That brings us to this Sunday, January 27th, and the 32nd Royal Rumble in Phoenix, Arizona at Chase Field. This is arguably the premier annual event for WWE , which in the past has ended up being much more entertaining than Wrestlemania, especially in 1999 when federation owner Vince McMahon won it himself. Therefore, a "Royal Rumble Gambling Guide" had to be published as this is absolutely the funnest event happening this weekend (with all due respect to the NHL All Star Game and NFL Pro Bowl, of course).
Now if merely happy there are offshore sportsbooks posting wrestling odds and accepting WWE bets, don't assume there will be lots of variety because that's dead wrong. In fact, it's impossible to line shop because the only two books taking action are Bovada and BetOnline, both posting the exact same numbers.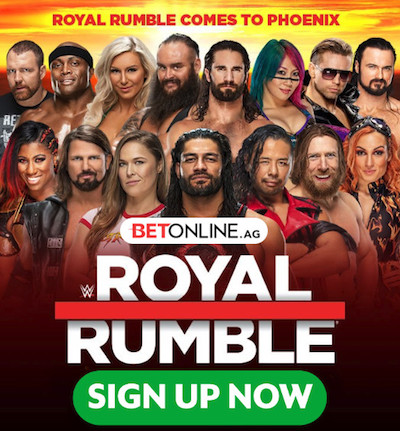 Yes, that's correct: they have identical listings for each result, meaning someone copied from the other. For shame! However, even though Bovada is a trusted iGaming industry icon, they occasionally pull down lines and have smaller maximums, so let's just focus on "BOL". This makes complete sense since Head Bookmaker, Adam Burns, knows more about pro wrestling than anyone claiming to be a "wrestling expert", having studied the sport religiously for over two decades.
The majority of readers want to bet on the Royal Rumble winner so let's examine this first. The strong favorite is Seth Rollins (-150) and then no one comes close, so if he doesn't take it, a decent payday emerges. Anyone else in the Top 5 awards handsomely with Braun Strowman (+400), John Cena (+800), Drew McIntyre (+1200), and Finn Baylor (+1600) all being decent wrestlers to back.
Dozens of tomato cans clog the middle of the pack offering numbers anywhere from +2000 to +6000, followed by numerous long shots of +10000, with a few old timers mixed in like Kurt Angle (+6600), Rey Mysterio (+4000), and "The Heartbreak Kid" Shawn Michaels (+10000). These are sentimental options to get down on but if really wanting to feel like a kid again, stake "Stone Cold" Steve Austin (+10000) or Hulk Hogan (+10000) to take the Rumble (assuming "The Hulkster" says his prayers and takes his vitamins beforehand).
From there, it's also possible to stake Who will get the most eliminations? with Drew McIntyre (+100) and Braun Strowman (+200) again being heavy favorites to dominate. Then two solid value opportunities arise with John Cena (+2000) and Randy Orton (+2000) as both of these beasts are more than capable of eliminating multiple competitors. Following these selections, money can be thrown away on long shots like Mustafa Ali (+5000), Jinder Mahal (+5000), and Dolph Ziggler (+5000), none of whom should be in the ring longer than a few minutes.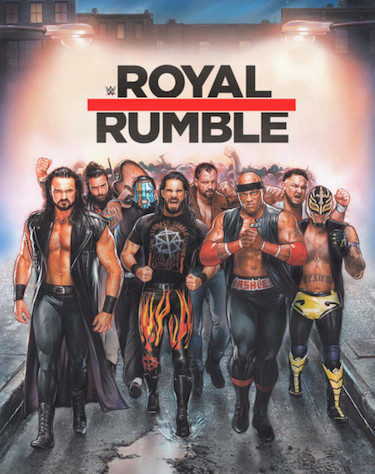 The last major category is "Longest Time" and the BetOnline wagering site for American gamblers has some very interesting outcomes for this one. They set favorites of Seth Rollins (+200), Andrade Cien Almas (+350), Mustafa Ali (+400), Elias (+500), and Finn Balor (+600), in what's probably the hardest result of the night to handicap. Just throw darts to choose this one, or take The Rock to lay the smack down at +6600 for old time's sake.
Aside from above options, staking the Women's Royal Rumble winner could be amusing, (favorite is Charlotte Flair -200), as well as Ronda Rousey (-600) vs. Sasha Banks (+350), and all other big matches like Brock Lesnsar (-350) vs. Finn Balor (+225), and Daniel Bryan (-250) vs. AJ Styles (+170).
So if you crave action on Royal Rumble 2019, go signup at BOL now and check out their wrestling odds. They're absolutely one of the best books in business today… And that's the bottom line because Stone Cold said so…
******************************************************
Now to warm up, here are the funniest moments from previous Rumbles in a super edit from the WWE themselves.