For years the only way for Americans to enjoy NFL SuperContests was if they lived in Nevada or a short drive away, but thanks to the Supreme Court's decision striking down the U.S. gambling ban last year they're now available online. Last week we told you how to enter the 2019 MyBookie SuperContest and were quite impressed with the $100,000 prize, however, now another site has stepped up and blown that promotion right out of the water.
Please welcome the BetOnline Mega Pickem Contest for the 2019 NFL Season handing over a massive $250,000 in cash prizes to ultimate winners. If craving long-term action and excitement that unfolds over a few months, definitely don't sleep on this one.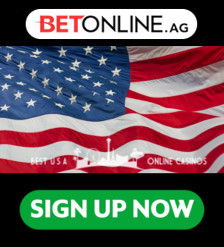 Rules are pretty much identical to the SuperContest at Westgate Sportsbook in Las Vegas with a few little tweaks since it's virtual. Every week pick 5 games against the spread (ATS) and earn a point for each correct selection, obviously meaning the highest score possible is 85 points (5 games x 17 weeks). The contest continues until season's end with best score receiving $100,000 and amounts then reducing accordingly for the next 39 players.
Entry fees are kind of hefty but when there's a quarter of a million dollars on the line, they pretty much have to be. There's a sliding price scale depending on how many entries you buy, with three different levels.
1 = $250 Each
2 or 3 = $200 Each
4 or 5 = $150 Each
Other rules to note are odds will not change once posted and all spreads will have a .5 on the end to avoid pushes. Also, if a game is postponed or cancelled it will count as a win in the standings so look long and hard at those Tampa Bay home games in September since they're always hit with lightning storms in the 3rd quarter (seriously, go look it up).
The deadline to enter is September 8th so get it in gear and register at BetOnline today to enter. There's simply nothing more enjoyable (or more enraging) than a 17 week battle involving professional football and handicapping, screaming at countless missed field goals along the way.
For anyone interested, here's the BOL 2019 Mega Contest payout schedule to get you in the mood: