In 2019 the world is changing faster than we ever thought it could and every day brings new technology, gadgets, scientific facts, and of course, ways to transfer funds. We're of course referencing the best deposit methods for U.S. online casinos and the fact that it's now possible to fully fund a gambling account in under an hour. What once took a week with a money order now takes minutes with virtual currency – what a time to be alive.
One of the leaders of this movement has been BetOnline Sportsbook under international jurisdiction with their early integration of popular cryptocurrencies into their cashier. This ensured customers could use all the latest banking methods or stick to outdated ones like VISA and Western Union. The customer is always right, so it's obvious they should be allowed to make their own financial decisions – even ones that are wrong.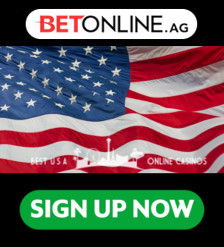 Well, now there's yet another choice for those visiting "BOL" to bet on NFL football this year with the addition of Ripple, a cryptocurrency making some major waves last year (pun intended). This was the coin that languished around .25¢ for ages while being heavily touted by iGaming experts like David Strauss from MyBookie who believed it would dramatically increase in value. Shockingly, he and others were right and it rocketed to $3.00 USD before quickly crashing back down to .50¢, leaving a trail of broken hearts and empty wallets in the process.
Anyone who read our expert review of BetOnline deposits and payouts already knows these guys are some of the sharpest minds in the industry, so it's no surprise they figured out that there are tons of gamblers across the USA who have crypto wallets stuffed with XRP they'd like to use for something. It's pretty clear that the "Ripple Ride" so many enjoyed is over for good and it's time to clear that coin off of balance sheets and replace it with something new (how's Dogecoin doing these days?).
Therefore, anyone wanting to do some "fall cleaning" for football season this year should dump their Ripple at BetOnline and hopefully turn that dud into a stud. There's really no other use for it at this point so might as well lay it down and get some action.
Editor's Note: Jimmy Valentine lost thousands on XRP and is obviously still quite bitter.