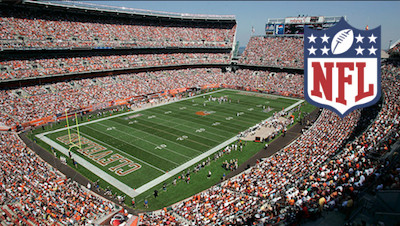 Many love putting money down on a good football underdog since selecting favorites every week is both boring and lazy, rarely yielding large profits in the process. If always playing it safe, why even bet in the first place? The term thrown around with reckless abandon is any given Sunday, obviously shorthand for on any give Sunday, any team can win and sometimes they do just that.
Most NFL upsets come during the first few weeks of the season when rosters are still sleeping (San Diego Chargers), or when the gambling public hasn't realized a squad has made the jump to a higher level (Jacksonville Jaguars), or who's on their way to stumbling down the ladder (Seattle Seahawks). It happens annually without fail.
Some harder questions to answer beginning this season are:
Was Jacksonville a fluke in 2017?
Is this the year when New England finally falls down and can't get back up?
What week will quarterback controversy start in Philadelphia?
Of course, everyone routinely asks the same question: How bad will Cleveland be? and thankfully, it's possible to bet on the worst NFL team to enjoy cheering them on to another heartbreaking campaign. It's impossible not to feel bad for Browns fans, but strangely they aren't even close to being the biggest Dog on the board in Week 1.
In fact, the largest spread is Tampa Bay taking 10 against New Orleans at always-generous Bovada wagering site as it seems Head Bookmaker Pat Morrow isn't convinced of Ryan Fitzpatrick's abilities on the road. This is a frisky division rivalry that would have been interesting if Jameis Winston was starting, but with him suspended this figures to be a fairly easy game for the Saints. If staking Drew Brees and company, do it at BetOnline to receive an extra half point at -9½.
Another edge is found with Sunday's second place dog, as Bovada lists Buffalo +8 against Baltimore while BOL hung 7½. This should be an effortless win for veteran Joe Flacco as he's facing 2nd year quarterback Nathan Peterman, who has yet to prove himself as a proper starter thus far.
Things then get crazy as the Packers, Lions, Vikings and Patriots are all favored by either 6 or 7 over opponents. With lots of games boasting huge numbers like these, you can just smell a couple of surprises brewing, (49ers outright win, anyone?).
Here are full odds for NFL 2018 Week 1 from BetOnline Sportsbook for U.S. players, accepting countless types of action, including live stakes:
Sunday
| | | | | | | | | | | |
| --- | --- | --- | --- | --- | --- | --- | --- | --- | --- | --- |
| 1:00 PM | Pittsburgh Steelers | | -4 | -115 | | -215 | | Ov | 42 | -102 |
| | Cleveland Browns | | +4 | -105 | | 185 | | Un | 42 | -118 |
| | | | | | | | | | | |
| 1:00 PM | San Francisco 49ers | | +6½ | -107 | | 225 | | Ov | 46 | -105 |
| | Minnesota Vikings | | -6½ | -113 | | -265 | | Un | 46 | -115 |
| | | | | | | | | | | |
| 1:00 PM | Cincinnati Bengals | | +2½ | -112 | | 115 | | Ov | 48 | -104 |
| | Indianapolis Colts | | -2½ | -108 | | -135 | | Un | 48 | -116 |
| | | | | | | | | | | |
| 1:00 PM | Buffalo Bills | | +7½ | -115 | | 275 | | Ov | 40½ | 100 |
| | Baltimore Ravens | | -7½ | -105 | | -330 | | Un | 40½ | -120 |
| | | | | | | | | | | |
| 1:00 PM | Jacksonville Jaguars | | -3 | -102 | | -145 | | Ov | 42 | -110 |
| | New York Giants | | +3 | -118 | | 125 | | Un | 42 | -110 |
| | | | | | | | | | | |
| 1:00 PM | Tampa Bay Buccaneers | | +9½ | -108 | | 370 | | Ov | 49½ | -110 |
| | New Orleans Saints | | -9½ | -112 | | -440 | | Un | 49½ | -110 |
| | | | | | | | | | | |
| 1:00 PM | Houston Texans | | +6 | -105 | | 225 | | Ov | 50½ | -110 |
| | New England Patriots | | -6 | -115 | | -265 | | Un | 50½ | -110 |
| | | | | | | | | | | |
| 1:00 PM | Tennessee Titans | | -1 | -110 | | -120 | | Ov | 45 | -110 |
| | Miami Dolphins | | +1 | -110 | | 100 | | Un | 45 | -110 |
| | | | | | | | | | | |
| 4:05 PM | Kansas City Chiefs | | +3 | 110 | | 162 | | Ov | 48½ | -115 |
| | Los Angeles Chargers | | -3 | -130 | | -182 | | Un | 48½ | -105 |
| | | | | | | | | | | |
| 4:25 PM | Seattle Seahawks | | +3 | -112 | | 135 | | Ov | 42½ | -117 |
| | Denver Broncos | | -3 | -108 | | -155 | | Un | 42½ | -103 |
| | | | | | | | | | | |
| 4:25 PM | Dallas Cowboys | | +3 | -115 | | 125 | | Ov | 42 | -110 |
| | Carolina Panthers | | -3 | -105 | | -145 | | Un | 42 | -110 |
| | | | | | | | | | | |
| 4:25 PM | Washington Redskins | | +1 | -108 | | -101 | | Ov | 43½ | -110 |
| | Arizona Cardinals | | -1 | -112 | | -119 | | Un | 43½ | -110 |
| | | | | | | | | | | |
| 8:20 PM | Chicago Bears | | +7 | -105 | | 260 | | Ov | 46½ | -110 |
| | Green Bay Packers | | -7 | -115 | | -310 | | Un | 46½ | -110 |
| Monday | | | | | | | | | | |
| 7:10 PM | New York Jets | | +6½ | -109 | | 230 | | Ov | 45 | -112 |
| | Detroit Lions | | -6½ | -111 | | -275 | | Un | 45 | -108 |
| | | | | | | | | | | |
| 10:20 PM | Los Angeles Rams | | -4½ | -105 | | -205 | | Ov | 49½ | 105 |
| | Oakland Raiders | | +4½ | -115 | | 175 | | Un | 49½ | -125 |
***All odds correct as of September 8, 2018.***