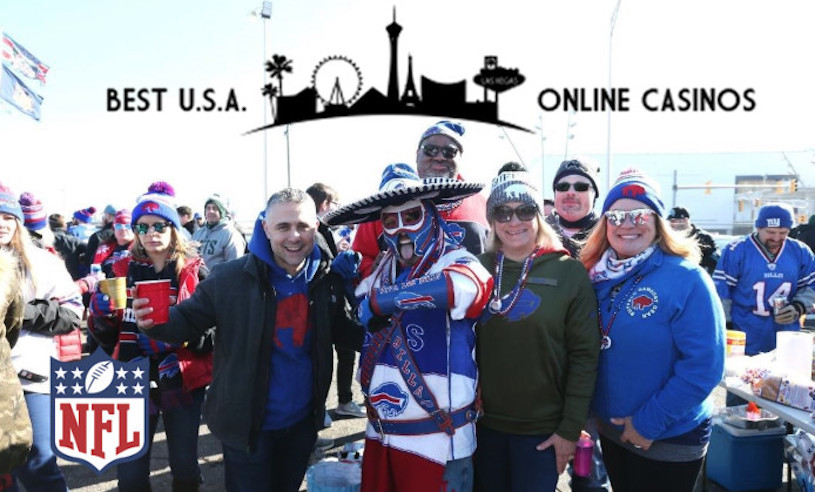 With only two weeks left in the 2018 NFL season, this is our second-to-last chance to see some really big odds before the bottom-feeding teams are mercifully sent home to the golf course. There's still a lot to be decided regarding the playoffs so many of the Week 16 games are quite important. That said, there are three matchups with double digit spreads and two that currently have a number of 9, so there's plenty of meat left to chew on.
One of the true blessings of December football is the Saturday games we're given, and one of the biggest Underdogs of the week is taking the field first. The Washington Redskins are on their 3rd string quarterback and are limping into Tennessee to face off against the hungry Titans, and getting 10 points for the pleasure. We love betting Dogs but we don't think we can talk ourselves into taking the Redskins moneyline…or even the cover. For those who more daring than us, make your wager at the BetOnline website because they're giving an extra half point with 10½.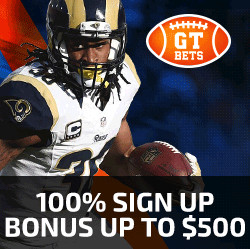 Moving on to Sunday, we again get the opportunity to bet on the wonky Buffalo Bills who are getting 13 points against hated division foe New England. The Patriots have looked pretty shaky over the last few weeks so a bet on a backdoor cover for the Bills might not be too bad. Anyone daring enough to put money on a Bills victory should put it down at the MyBookie Sportsbook & Casino since they have the money line paying +625 while most others have it at +545 or less. It has been paying massive dividends to line shop all season and this week is no different; this is why these gambling guides are so important – they actually make you money.
Next we have something that we haven't seen in well over a decade: the Cleveland Browns being favored in a game against Cincinnati. The Browns are at home and the Bengals (without Andy Dalton, of course) are getting a whopping 9 points at most online sportsbooks, however BetOnline displays their generosity again with a line of 9½ so place your Underdog wagers there. Every book currently agrees that the New York Giants should be getting 9 on the road against the Colts, so don't bother line shopping for that game.
Finally we get to the biggest spread on the board this week: the L.A. Rams giving 14 points to the hapless Arizona Cardinals. This line seems fair at first glance but if you go over L.A.'s last few games you see that they look like they might be slowing down a bit. Most of the major books agree on the number of 14, however, the little-known GTbets Sportsook for U.S. players is giving out an extra half point. Therefore, if you want to bet on Zona to cover the spread, you should put your money down there and give these guys a chance.
For anyone looking to back a miraculous Cardinals outright win, you should place that wager at MyBookie because they've juiced-up their money line payout to +650, while most others have it at +600. This book is led by David "Dr. Death" Strauss and they're always pushing the limits with their numbers – this week is no different.
Here are all of the current gambling odds for Week 16 at BetOnline. Good luck!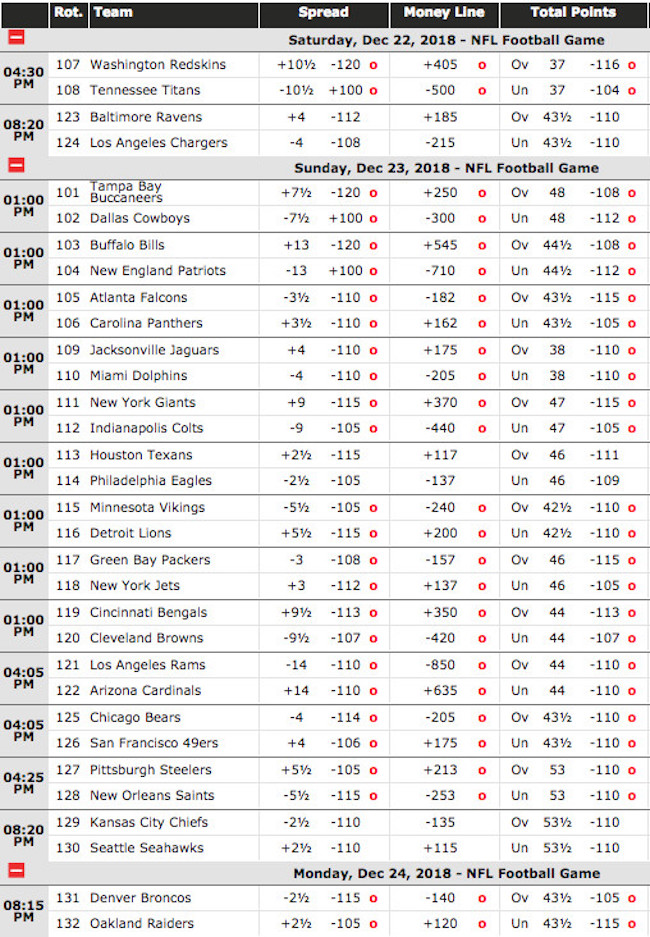 ***All odds correct as of December 20, 2018.***