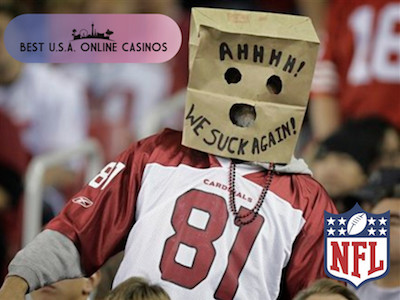 As we already reported in our 2018 Week 1 NFL gambling recap, if you bet on underdogs last week you made out like a bandit. Tampa Bay alone got people paid off across the nation while destroying Survivor Pools of many shocked fans. So who don't the experts like this week? Let's take a look.
The biggest dog in Week 2 is the Arizona Cardinals who are travelling to the west coast to lock horns with division foe, the Los Angeles Rams. The Rams are confident after slapping down the Oakland Raiders on Monday Night Football last week and the entire team seems to be firing on all cylinders. Most books are giving the Cardinals 13 points, but you can get an extra half point at MyBookie who's giving them 13.5.
The second largest spread on the board is the New Orleans Saints and Cleveland Browns game, with most places giving the Browns 9.5 points. Again, if you want an extra half point go get down at MyBookie who has +10. This line is a little strange since the Saints' defense allowed the Bucs to put 48 on them last week, while Cleveland looked decent at home against the Steelers. Out of all the juicy odds for Week 2, this game might be the most tantalizing.
Rounding out the Top 3 Dogs for Sunday we have the Buffalo Bills who are home to the "San Diego Chargers of Los Angeles", and no one agrees what the spread should be. If you want the favorite Chargers, go to BetOnline since they have -7.5, however, if you want the Dog, learn about Bovada Sportsbook who has the Bills at +8. Or even better, just go to  aforementioned "MB" and get +8.5, which is obviously the best number available.
Anyone looking for odds on the Minnesota Vikings and Green Bay Packers game will probably have to wait until Sunday morning since it's still unclear whether Aaron Rodgers will start. He alone probably moves the line by 10 points…well, him combined with the limited skills of his backup, DeShone Kizer, of course.
Here are full odds for Week 2 of the 2018 season courtesy of the trusted BetOnline NFL offshore sportbook, which is where you'll want to back favorites every time.
| | | | | | | | | |
| --- | --- | --- | --- | --- | --- | --- | --- | --- |
| 1:00 PM | Indianapolis Colts | | +6 | -110 | | Ov | 48 | -110 |
| | Washington Redskins | | -6 | -110 | | Un | 48 | -110 |
| | | | | | | | | |
| 1:00 PM | Carolina Panthers | | +6 | -110 | | Ov | 44½ | -101 |
| | Atlanta Falcons | | -6 | -110 | | Un | 44½ | -119 |
| | | | | | | | | |
| 1:00 PM | Los Angeles Chargers | | -7½ | 102 | | Ov | 43 | -105 |
| | Buffalo Bills | | +7½ | -122 | | Un | 43 | -115 |
| | | | | | | | | |
| 1:00 PM | Houston Texans | | -3 | -110 | | Ov | 43 | -109 |
| | Tennessee Titans | | +3 | -110 | | Un | 43 | -111 |
| | | | | | | | | |
| 1:00 PM | Kansas City Chiefs | | +4½ | 102 | | Ov | 53½ | -108 |
| | Pittsburgh Steelers | | -4½ | -122 | | Un | 53½ | -112 |
| | | | | | | | | |
| 1:00 PM | Miami Dolphins | | +3 | -127 | | Ov | 43½ | 100 |
| | New York Jets | | -3 | 107 | | Un | 43½ | -120 |
| | | | | | | | | |
| 1:00 PM | Philadelphia Eagles | | -3 | -121 | | Ov | 43½ | -119 |
| | Tampa Bay Buccaneers | | +3 | 101 | | Un | 43½ | -101 |
| | | | | | | | | |
| 1:00 PM | Cleveland Browns | | +9½ | -110 | | Ov | 49½ | -102 |
| | New Orleans Saints | | -9½ | -110 | | Un | 49½ | -118 |
| | | | | | | | | |
| 4:05 PM | Arizona Cardinals | | +13 | -115 | | Ov | 45 | 100 |
| | Los Angeles Rams | | -13 | -105 | | Un | 45 | -120 |
| | | | | | | | | |
| 4:05 PM | Detroit Lions | | +6 | -107 | | Ov | 48½ | -110 |
| | San Francisco 49ers | | -6 | -113 | | Un | 48½ | -110 |
| | | | | | | | | |
| 4:25 PM | New England Patriots | | -1 | -110 | | Ov | 44½ | -104 |
| | Jacksonville Jaguars | | +1 | -110 | | Un | 44½ | -116 |
| | | | | | | | | |
| 4:25 PM | Oakland Raiders | | +6½ | -110 | | Ov | 46 | -110 |
| | Denver Broncos | | -6½ | -110 | | Un | 46 | -110 |
| | | | | | | | | |
| 8:20 PM | New York Giants | | +3 | -110 | | Ov | 42½ | -110 |
| | Dallas Cowboys | | -3 | -110 | | Un | 42½ | -110 |
| | | | | | | | | |
| 8:15PM | Seattle Seahawks | | +3 | 105 | | Ov | 43 | -105 |
| | Chicago Bears | | -3 | -125 | | Un | 43 | -115 |
***All odds correct as of September 15, 2018.***