An absolutely insane first week of football just transpired and anyone worried there weren't going to be upsets in Week 1 of the 2018 season had fears put to bed very early on Sunday. Favorites dropped like flies as angry gamblers tried to calculate their heavy losses on the day.
When looking at biggest underdogs for Week 1 a few days ago, a highlighted matchup was Tampa Bay at New Orleans, the largest spread posted, at either 9½ or 10 depending on destination. Well, the "best" bet on the board turned out to be "worst" as Ryan FitzMagic went absolutely crazy on the Saints' defense, throwing for 417 yards and 4 touchdowns, destroying countless people's 2018 football Survivor Pools in the process.
The "fun" didn't stop there however, as even more dogs stepped up to stun opponents and hand them an opening day defeat. Kansas City rolled into Los Angles to face the Chargers who were getting 3, but ended up rolling right over them on route to a 10 point victory. The lesson as always is to be very careful with AFC West divisional matchups because they all hate each other enough to win at any time, even in seasons where it appears as if one is better on paper.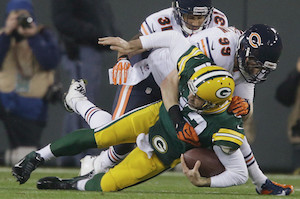 Speaking of divisional games, Chicago marched into Lambeau Field with a chip on their shoulders for Sunday Night Football to face Green Bay and ended up coming oh-so-close to the road upset. They temporarily knocked out QB Aaron Rodgers but he came back in later to give the Packers a 1 point win, also allowing the Bears to easily cover 7. Chicago looked pretty good throughout the night so don't expect anymore "gift lines" bestowing them lots of points for a while.
The "weekend of shock and awe" came to a close on Monday Night Football as the Jets strutted into Ford Field to tangle with the Lions, Detroit favored by 6½ before kickoff. Well, that line seemed too low after the first snap when rookie QB Sam Darnold threw a Pick 6 on his first-ever NFL snap. However, the New York defense then rallied to make some fantastic plays, igniting Darnold and the offense to go bonkers on the putrid Detroit D, leading to a final score of 48-17.
If all that carnage wasn't enough on Sunday, fans even got a tie game between Cleveland and hated rival Pittsburgh, with the Steelers going in at +4. Most individuals hate ties, although punters backing a Browns cover were happy when the overtime clock hit zeroes. An amazing footnote to this game is this is the best start for Cleveland since 2004! It's almost unbelievable.
In any event, those staking NFL underdogs clearly made a killing last weekend, so congratulations. Although obviously, anyone taking favorites got squashed. Oh well, on to next week…