After months of terrible news, we finally have a beautifully-bright announcement in the form of thousands of dollars up for grabs. As per usual, it arrives courtesy of steadily top-ranked Intertops iGaming website, now offering massive bundles of prizes to members looking for electronic fun while social distancing from other humans until a Coronavirus vaccine is released.
The $150,000 Wonderland Promotion is giving away cash every Monday to the Top 300 positions on their monumental month-long leaderboard. It's super simple to join, the only requirement being a real money gambling deposit of $75 or more, using any listed methods in their Cashier such as VISA or Bitcoin. Lesser-used cryptocurrencies are even accepted such as Ethereum, in order to appeal to younger individuals not used to a virtual Vegas and trying things out for the first time.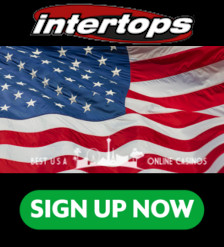 From there, simply play anything to earn 1 point for every $100 risked, with each notch pushing rankings higher up the ladder. To clarify, wagers on blackjack, roulette, Keno, or their fantastic online slot games count, regardless of whether it's regular, 3D, or jackpot. In addition, all video poker terminal action adds to totals so take some time to explore products throughout summer.
There are extra balance bumps between $20 and $150 issued to those logging in on Mondays, Tuesdays, and Wednesdays, with funds issued Thursdays. Ultimately, $1,000 will be bestowed to someone random finishing in the Top 20, just to end the contest off with a "bang". Unsurprisingly, Intertops just announced a whole new series of valid casino bonus codes for U.S. players earlier in the week, all offering huge transaction matches, free spins, or both.
There's still plenty of time to get in on the excitement since the $150,000 Wonderland is running for the next three and a half weeks, up to June 8th, rewarding loads of lucky clients along the way. Check them out today but just make sure not to get mesmerized by the colorful cheshire cat guarding the purse. It's easy to get lost in that psychedelic smile.