The most sacred occasion of the year is this weekend, with Mothers' Day being the one true time when it's "all about mom". Bouquets of flowers, boxes of chocolates, and well-thought out cards are all part of celebrating, however, now an extra treat is at one of the best blackjack casinos that's sure to brighten up spirits even more. Well, assuming mom wouldn't mind being given cash as a present, that is.
The $100,000 Mother's Day Blackjack Tournament is currently running at highly-acclaimed Wild Casino, an extremely generous operation constantly showering members with gifts. Now they're giving mothers across the nation free entry into a massive contest, hopefully to snag a piece of the $100k guaranteed prize pool. In fact, everyone can get in on the fun as gratis tickets are being issued to all players regardless of official parental status.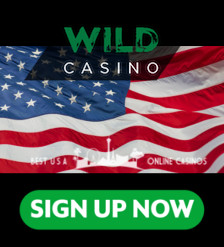 Starting chip stacks are in denominations of $500 and used to accumulate as much as possible before the clock expires, with the largest finishing stack receiving $15,000 for their achievement. Sums then slowly decrease giving 2nd place $10,000, 3rd $5,000, 4th $3,500, and 5th $2,000, none of which are anything to sneeze at. Prizes continue all the way down to 500th spot, awarding $20 to the bottom 99, ideally to spend on a bottle of wine for mom.
Standard Wild terms and conditions apply to this event such as a 50x rollover requirement on winnings, with unused portions being forfeited after 7 days, so make sure to clear the calendar. Also, prizes may not be spent on specialty games, progressive jackpots, or Live Dealer tables, but everything else is up for grabs. Anyone busting out early can re-buy for a $10 fee to take another crack, so be sure to teach mom how to pay blackjack with Bitcoin or simply choose traditional methods of VISA or MasterCard to fund accounts and keep the party going.
Forget crazy daisies because this is truly a "wild" experience sure to thrill and delight all weekend long as cards furiously fly out of shoes onto virtual tables. It all ends on Sunday at midnight so head over and register soon.
Happy Mother's Day!