Just when you thought it was safe to go outside and suntan, an insane USA online blackjack event is now running that's promising to reward a massive amount of players. The first of its kind transpired a few months ago and featured a unique payout structure, those participating in it demanding its return for summer.
So the Free $25,000 Crazy Payouts Tournament is back to enrich 1,500 lucky winners, again hosted at independently reviewed and approved BigSpinCasino who's been rocketing up the rankings of every reputable iGaming publication, including this one. Sure their current welcome bonus is 200% up to $1,000 making it the largest inducement found for July 2021, but they also back this up with loads of fantastic Las Vegas table games and slots, everything available 24 hours a day.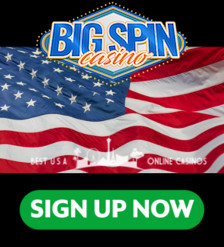 Entry costs absolutely nothing and those unhappy with initial scores may rebuy back in an unlimited number of times, $5 purchasing $1,000 in supplementary tourney chips. When the dust settles, 1st place grabs $1,500, 2nd takes $700, 3rd pulls $800, with sums gradually reducing to $10 for positions 1301 to 1500.
Five additional others will be awarded a special Big Spin Casino Bonus for landing in specific leaderboard positions, 100th getting $600, 400th enjoying $500, 700th nabbing $500, 1,000th snatching $500, and $1,300th receiving $350 for their troubles. Funds arrive with a 10x rollover requirement before cleared for withdrawal, a modest obligation compared to the possible gains.
Another interesting twist to this particular affair is that anyone ending up tied does not split the prize for that level because the person reaching the score last is given a higher position. This is an incentive for competitors to not get too comfortable and wait timidly for the clock to lapse, instead staying aggressive right up to the final bell.
Action kicked off on Monday but finishes on Sunday, July 11th at 11:59pm ET, leaving plenty of time to register and climb the ladder. So if hankering to test blackjack skills against fellow Americans, this is certainly an excellent opportunity to do it.