Anyone over-stuffed with hotdogs this weekend can still celebrate Independence Day thanks to an enormous event presently taking place at a leading iGaming destination. In fact, the $100,000 4th of July Roulette Tournament over at independently reviewed and recommended USA Wild Casino is absolutely going to change the summer plans of players able to balance skill with a little bit of luck.
To honor freedom and liberty, entry is absolutely free for everyone, those unhappy with rankings able to rebuy for $10 without limit. Each purchase grants 250 tournament chips to lay down in any manner desired, ensuring various betting systems and strategies can be used throughout the explosive festivities.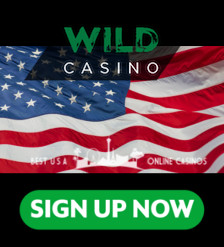 The true patriot finishing atop the leaderboard pockets a whopping $15,000 in cash, with 2nd nabbing $12,500, 3rd receiving $10,000, 4th getting $7,500, amounts then gradually descending at each position until $500 for spots 31st to 50th. Awards are spendable on anything at Wild.ag including American roulette, except for Live Tables, specialty games, and progressive jackpot slots.
Winnings arrive with a chunky 60x rollover requirement prior to withdrawing, so be ready to keep the party going for a while. Especially since terms state that any uncleared funds expire seven days after being issued, so make sure to keep an eye on the clock. Sadly, gains are capped at 2x prize value, obviously dictating diversions with potentially large rewards should be avoided.
Action began on Thursday but doesn't finish until 11:59pm ET on Monday, July 5th, 2021, leaving plenty of time to get in on the fun and start stacking up chips. The sole factor determining victors is final score, so anyone could end up pocketing this huge Independence Day bounty.