Professional football returns this week and new offshore sportsbook promotions and contests are popping up everywhere, some providing excellent value for entrants. Of course, the most popular attractions are NFL Survivor Pools since they allow head-to-head competition involving large numbers of people, requiring equal amounts of both skill and luck to emerge victorious.
Now U.S. government compliant BetOnline is hosting a Winner Take All $10,000 NFL Survivor Contest that's absolutely free to enter. Simply signup at their site if not already possessing an account and then visit the promo page to find it listed under current events.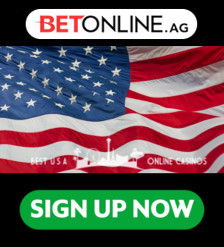 Picks are for outright game winners and not against the spread (ATS) like some Pick 'Em contests, each team only selectable once throughout the year. Of course, since it's complimentary, only one entry per player is allowed and any duplicate profiles will be immediately disqualified.
Standard rules are in effect, with the pool finishing on Week 17 (if everyone doesn't bust out before then) and playoffs aren't included in results. If more than one individual is still alive at the end of regular season, the $10k prize pool is split evenly amongst whomever's left, funds immediately credited to all accounts.
A welcome change for the 2020 installment of the always-exciting BetOnline NFL Survivor Pool is that this year ties are considered "losses" instead of "wins", which was the case in 2019. This resulted in countless player complaints of frustration as this rule flew directly in the face of standard pool regulations throughout the world.
Registration closes on September 14th, 2020, right before Monday Night Football kickoff, so head over now to get in on the action.