Now that lockdowns have begun across the country, the time for home-based entertainment is definitely here and the battle against boredom begins. Good news emerged today for those who like to play online slots in the United States because there's a great opportunity to pump up bank balances and squeeze a little more fun out of wallets. Obviously during periods of uncertainty every penny counts and stretching budgets becomes an absolute necessity.
This is yet another promo from recommended gambling site Intertops who seems hellbent on giving members nonstop goodies as we roll into spring. They've become quite fond of marketing new releases through a series of escalating offers that must be redeemed in order, with each one better than the last, and resulting in tons of excitement.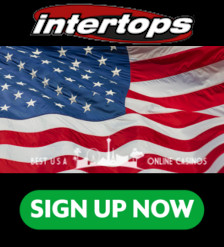 This week's title is 5 Wishes Slots featuring the best aspects of Arabia including monkeys, mysterious lamps, and of course a rambunctious genie in a bottle who just can't wait to blast out and award gold coins. It's a 5 reel, 25 payline, high volatility machine extending a top prize of 5,000x the bet amount in addition to not one, but two random life-changing jackpots to chase.
Now everyone can take a shot at winning since Intertops is offering a 75% casino bonus up to $600 plus 30 free spins for 5 Wishes to help people step onto this crazy carpet of leisure. Then those cheeky monkeys are dangling a 100% match up to $400 with another 40 extra games on top, finished off with a 125% match up to $1,000 alongside 50 more gratis pulls on the genie's turban. Then once the dust has settled these generous sultans are stuffing a final 77 spins in your hookah pipe to thank you for taking a ride with them.
Intertops Bonus Codes for March 2020:
75% Match + 30 Spins: "1WISH"
100% Match + 40 Spins: "2WISH"
125% Match + 50 Spins: "3WISH"
Extra 77 Spins: "4WISH"
As loyal fans of this website will already know, sometimes we'll get secret offers from them to pass along to our readers and this happens to be one of those occasions. So anyone wanting the biggest bonus possible should simply signup and immediately enter "WINWISHES" in their Cashier to unlock a 200% match up to $5,000 and 50 free twirls on 5 Wishes to start your Middle Eastern adventure off right. Another huge perk is this special code doesn't expire until April 30th, meaning there's plenty of time to claim it.
However, the first four wishes go back into the bottle on March 22nd so hop on a magic carpet and check out Intertops Casino today to rub their lamp and feast on what pops out. Just don't forget to put your seatbelt on first!