Now that people are freaking out that summer is half over it's officially time to have some fun before the leaves start falling next month. Thankfully, a few of the top U.S. gambling websites are stepping up with some lucrative promotions that will give their players extra rewards over the next few weeks and now's your chance to get in on the action.
Loyal readers will have already read our honest review of Sloto'Cash and know that this place is always pumping out the giveaways all year round, and they're certainly not going to stop just because it's blazing hot across the country. In fact, it makes even more sense to have promos during this time of year so people have something to do when they're chasing the air conditioning at home or in the mall.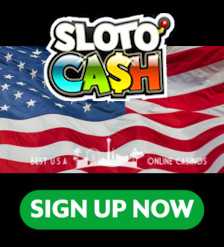 Now you can get a 150% match bonus on any deposit of $25 or more that you make at Sloto, instantly boosting your bankroll for their one-armed bandits and table games. Then if you fund your account again they'll give you a 200% match to thank you for your patronage. Then to top things off they'll finally award you with a shiny $100 free chip that you can use anywhere you like.
The offers obviously need to be redeemed in order and you can't skip right to the chip, so don't get any crazy ideas. The only thing to know about this last little treat is that it comes with a 40x rollover requirement before you can withdraw any winnings and the amount is capped at $500, so don't bother wasting it on any jackpot slots because you won't get the prize if you hit it.
To get everything credited to your account simply use the August 2019 bonus codes below when you're in their cashier:
150% Match: "SUMMER-ON-1"
200% Match: "SUMMER-ON-2"
$100 Free Chip: "KEEPCALM100"
The amazing thing about the above codes is that you can use the exact same ones at their sister site, Uptown Aces, and get all of the same offers a second time. Now that should keep you busy for the rest of the month!
It all ends on August 31st so get moving and sign up at Uptown Aces today if you want to have some fun while you hang out in the sun. Just remember to bring your phone charger and a bottle of water.