If there's one word that every single person in America loves to hear it's "free", which is why there are so many promotions throughout the year focusing on giveaways and fun prizes. Therefore, it's no surprise marketing departments at top USA online casinos in 2019 have been going absolutely crazy with announcements, trying to separate themselves from competitors.
Now players across the country have even more reasons to check out BetOnline with Free Spins Frenzy Reloaded dishing out stacks of goodies just for trying featured slot games on Fridays and Saturdays. Details are simple: for every 5 spins made of $5 or more, 1 free spin up to a maximum of 50 is issued over the two day qualifying period. For July there are two awesome machines to choose from with Viking Voyage or Dragon Kings both dishing out extra rewards.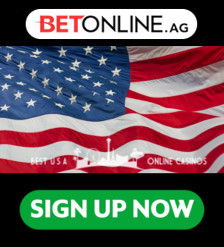 Those who have read our expert review of BetOnline Casino for U.S. residents already know these guys always announce new offers and giveaways, making them one of the most popular websites today. They even boast a virtual poker room for online tournaments and cash games, as well as a full sportsbook taking action on pretty much every event in the world.
The nice thing about this place is there's usually not a lot of "fine print" with marketing campaigns so no surprises or hidden terms pop up down the road. For example, with this particular one there's only one main rule: freebies expire 48 hours after issued to accounts so use them quickly.
This is more than balanced out by the fact there is no rollover on bonus spins and it's possible to immediately withdraw winnings without delay, which doesn't happen at a lot of other places. They sometimes make members risk extra funds multiple times before it's "cleared" and can be requested in a payout, and it's always a headache trying to figure out what's needed to complete requirements.
So anyone interested in grabbing some awesome perks this weekend without any strings should head over to visit BetOnline and get in on this promo, or check out other great offers constantly being released. Just make sure to play in a shaded area and protect yourself from this heatwave!