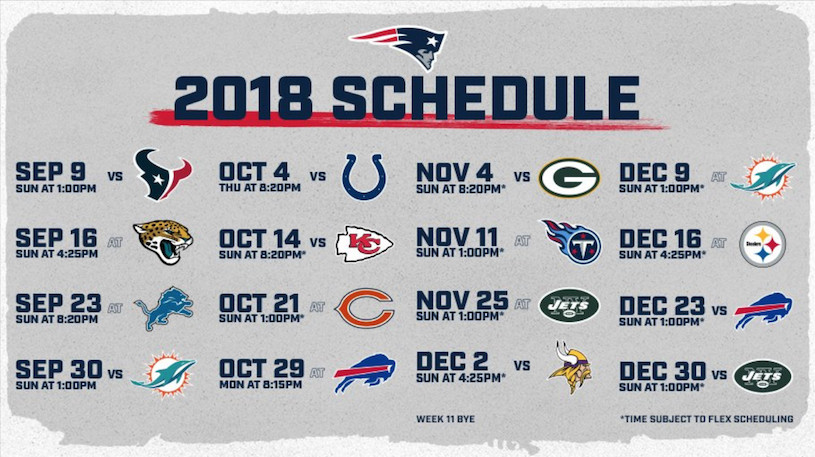 We're so close to the start of the 2018 NFL Season you can actually smell it in the air and every gambler across America is preparing their bankroll. Many want to either back the New England Patriots because they're fans, or want to go against them out of hatred. Regardless of sides, it's necessary to know how to bet on the 2018 Pats and what options are currently available, and this year there's excellent value found in a few season-long props.
First up is a surprising New England offering at the historic BetOnline website, who has them at +400 to finish with the best regular season record, asserting they're the strongest team in the league. Brady and crew are followed closely by the Eagles and Steelers who each sit at +700 to finish atop the standings. It should come as no surprise that the Buffalo Bills are the longest shot in this category at +20000.
Now the Patriots should finish December as one of 2018's finest, but the greatest record in football might be a stretch. That said, 100% legal MyBookie Sportsbook set the over/under at 11, so that just might be enough to do it. They also have them at +140 to win the AFC, followed by Pittsburgh (+380) and Jacksonville (+650), with no one else even close.
It might only be August, but oddsmakers over at "MB" have decided New England will win the 2018 Super Bowl, putting them at +400 to hoist the Lombardi Trophy in February. Take this number with a grain of salt because they presently have the Eagles right behind them to repeat at +750, which doesn't look too likely at this point.
The futures then get absolutely nutty with another bet on Donald Trump, this time asking if Tom Brady will publicly voice support for him during the season, with "Yes" paying +600, which seems very low. The eye-rolling jokes continue with the traders' next posted question of Will Tom Brady publicly admit Giselle wears the pants in the family? paying a minuscule +200 for "Yes".
Not even their stoic coach is above ridicule as evidenced by Will Bill Belichick smile during an on-field interview?, with "Yes" only paying +160. They also clarify that a grimace does not count and he must show his teeth. Unbelievable.
So if you want to get involved in crazy betting action for the Patriots 2018 season, go sign up for an account at MyBookie today and get money down on the most ridiculous NFL prop wagers in the country. Just remember that it helps to have a sense of humor when perusing selections.
***All odds correct as of August 28, 2018.***