It looks like one of the oldest betting websites in the country is continuing to shake things up this summer by announcing another huge promotion that looks both fun and profitable (if you're lucky). It's not clear what's in the water over at the BetOnline offices but they've been quite busy throughout 2019 and they're showing no signs of stopping now. This is probably because they want to become known as one of the best U.S. online poker rooms in addition to their sterling reputation for sports betting (how greedy of them).
To that end, they've just launched their $35,000 Warriors Tournament Challenge that will have an extra $5,000 up for grabs on their poker tables every week until August 25th, 2019. The terms and conditions are so simple that even Phil Hellmuth could understand them and everyone should be able to easily comprehend what's going on here.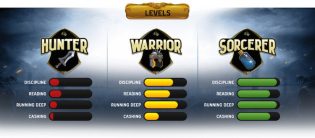 All you need to do is enter any BetOnline poker tournament throughout the month and finish in the money and you'll receive 5 points towards your total score, but if you finish in the Top 20 of the tourney it's good for 20 points. Don't worry if you're a fish who's going to donk away your chips before the cutoff because this generous website will give you 1 point just for registering (and just out of pity for your terrible skills on the felt).
Enter as many tournament as you can to rack up points and then each week the top 100 players on the leaderboard will divvy up the $5,000 prize pool with 1st snagging an extra $1,000, 2nd grabbing $750, and 3rd receiving $400. The bottom 25 get 10 bucks a piece so there are even a few crumbs leftover for the bottom-feeders. On top of all this there are tons of fun extras to unlock and a whole "warrior theme" to go along with them, complete with special powers and levels being awarded to those who are truly brave.
So if you're an American who wants to throw some chips around the virtual felt and get more rewards for your victories, go register at the BetOnline Poker Room today and polish up your armour while you check out their full schedule. Just make sure you don't drink any strange potions before the battle.